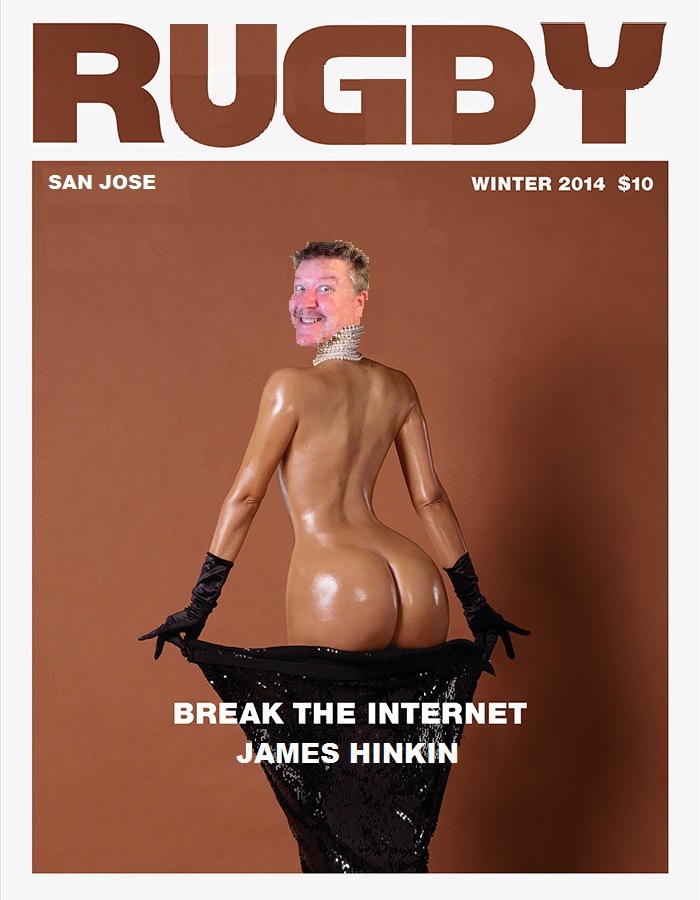 HAIL PELICUS!
We Are Warriors
What a weekend of rugby in Pelicanland. Northern California hosted a slew of top games this weekend, and nearly all of them were close, hard fought games that went down to the final seconds. Cal over UBC in an unusually high scoring thriller; St Mary's taking care of business against Glendale Merlins to remain perfect; Golden Gate over Life West for PRP bragging rights in Nor Cal; top of the table D2 action with San Jose over EPA in the Seahawk's second straight game with the winning score coming at the final whistle. High schools joined the party as Danville played a tight one with Granite Bay. High level dramatics are all the rage here and those who love and follow the game couldn't be happier. Yes, it is the annual "Who's got it better than us?" column.
Regular readers of Hail Pelicus are not only known for their high fiber diets but will also recognize the above theme as at least once a year we have several games with national implications happening on the same weekend while most other unions get these kinds of games once a year, if that. How many other LAUs will have this level of rugby in a year much less a weekend? St Marys and Cal dominate the college landscape with the occasional pretender rearing their head only to be slapped aside. The most consistent college sides from the rest of the nation, Life University and BYU, are isolated programs who need to travel for big games and those are rare, once a season type of games for them. Cal will play St Marys, Olympic Club, SFGG, UBC and Army – all of these outside their regular season schedule. St Marys will play Cal, Olympic Club, BYU, Central Washington and Glendale – all of these outside their regular season schedule.
And those are just the home fixtures we get to see here.
While MLR is still getting its legs and may someday overtake it, until then the PRP is the top league in the country and SFGG, Olympic Club and Life West will be playing top rugby every week against each other plus Southern California powers OMBAC, Belmont Shore and Santa Monica. And speaking of Life West, they are the reigning Women's D1 champions and made their call to be included into the WPL even louder with a victory over WPL founding member and national powerhouse All Blues. Should they be promoted Nor Cal would be, you guessed it, the only region with two WPL teams.
D2 surprise team San Jose Seahawks have alternated between blowing out teams by 50 and winning at the final whistle – including a rare defeat for St Marys B side. There is no middle ground for them – should they have a well managed 10 point win that might be the biggest shock of the season. They are set up to take on the equally perfect Sacramento Blackhawks for top of the table bragging rights just after the Las Vegas 7s. That may be the Nor Cal Game Of The Week come March 10, if it not for the exact same challenge for Diablo Gaels and Colusa as they take their undefeated records at each other in D3 that same day.
Do What I Say, Not What I Do
What was the point of the previous section? That we live in America's Rugby Heaven. Every week we have some of the best rugby in the country and they eyes of the nation are fixated here – especially since most of the leagues east of the Rocky Mountains are hibernating at this time of year. You can't take a week off because you will miss something spectacular with national implications.
And on that note, I am announcing that I will be taking a week off for the Las Vegas 7s. Hail Pelicus will resume after the March 10 Madness.
Oprah's Got Nothing On Me
With all of the big, exciting games this past weekend fan interest was high. And yet, and yet… nobody, be it a referee, club or fan, thought to send me a picture to be featured in this newsletter in spite of previous calls to do so. Sometimes it feels that I will see Godot before I get a picture sent to me. So far I have tried to share the iconographic wealth as much as possible but even then I appear more often than I should or want to. If this continues the Hail Peilcus will start looking like my version of Oprah's magazine O, which has a picture of, you guessed it, Oprah on it every issue.
I don't think anyone wants that.
To prove I am serious, this week I am giving you a taste of what this dystopian future would look like. The solution is in your hands. Send me captioned pictures and this can all be avoided.
ARC Round Up
A hard fought win over a tenacious Brazil side kept the Eagles undefeated and top of the table at the ARC. Things are looking good for the US to retain the title.
If only we can get our scrum halves to stop box kicking. We still truly suck at it.
The NCRRS Kit Store
Is closed. We will reopen it periodically as demand requires. Thank you to everyone who ordered kit and made this first run a success.
Disciplinary Action Reporting – Process For Reporting Incidents
The various competitions all have their own disciplinary chairs and this will make it difficult to centralize the communication and data. To help Scott Wood has developed a form that will centralize the process, regardless of the competition. The link to the discipline form is https://docs.google.com/forms/d/1mmUNg11uVOSkIsUtHifSqQzalhWbwohk_J6AmPyrucQ/viewform
1. Copy the link and have it available on your smartphone. If you have an iPhone add the link to your home screen.
2. When needed fill it out and click submit. The discipline chair of the competition you refereed will receive a notification about the incident.
3. He/she may contact you latter for more details.
4. If you have any questions as to how to use the app please refer to the following video: https://www.youtube.com/watch?v=_Uz0_gTaOnY
On To The Game Reports!
Date: 02/24/2018
St Marys College 58 – Glendale PRP (RM) 12
Referee: Steven Fenaroli
Glendale Merlins traveled from Colorado to play St Marys at home. There was some last minute switching of times for the game and Glendale D1 played SMC B side at 1pm. Following that game was the Glendale U23 playing SMC A side at 2:45. The kickoff was delayed due to an injury from the first game.
Neither team could slot many conversions and the wind would be a factor throughout the game. Scrums were an issue with the Glendale the and the SMC lh losing their bind throughout the game. If I was on that side, there werent issues. This leads me to believe there was some tomfoolery amidst.
SMC was tough to stop with their dominant ball play. It was a team win as they were happy to get the ball out.
Date: 02/24/2018
St Marys College B 31 – Glendale 26
Referee: Rich Boyer
St. Marys hosted Glendale in a friendly. The match started with St. Marys scoring first on a penalty kick. Momentum soon swung to Glendale, as they gave St. Marys more than they could handle. Glendale quickly scored a forwards try, followed by the big inside center's gallop for another. Both tries were converted. St. Marys got on the front foot immediately at the restart due to a Glendale handling error. Repeated pressure resulted in two consecutive penalties, the second of which captain Sean, the halfback, quick tapped and dove in for a try. Converted. The next try was a mirror image of St. Marys first try, capped off by the wily halfback. 21-17 Glendale towards the end of the first half. St. Marys restarts, and instead of kicking to touch the flyhalf swings the ball to 13, who makes a great line break, links up with the wing and runs 85 meters, to be tackled a few yards from the tryline. He first pikes to present the ball, then decides to lunge for a try. Penalty, and St. Marys escapes. The game was hard hitting, and the second half did not experience a drop off. The teams parried back and forth, with Sean from St. Marys scoring from the base of a strong scrum. Hat trick. Glendale's number 7, who had a huge impact at breakdowns with timely poaches, rambled down the sideline and scored, with the try the only one of the day uncoverted. 26-24 Glendale. St. Marys eventually won ball back, the omnipresent Sean make a nice little pop kick collected by the flyhalf, ball was recycled near the try line and St. Marys scores. The flyhalf converted, resulting in the final score 31-26.
Date: 02/24/2018
St Marys College Women 22 – Univ Nevada Reno Women 42
Referee: Cammeron Feusi
No Report Received.
Date: 02/24/2018
Silicon Valley 17 – Google 33
Referee: James Fonda
Great day but a little windy and cold. Rugby was pretty good. Technical zones needs to be understood.
Date: 02/24/2018
Santa Rosa Black Roses 0 – Life West Gladiatrix B 0
Referee: Giles Wilson
This game was cancelled at 9.20pm on Friday night. Life West had call ups to their Elite team and on Friday night several other players apparently discovered that some didn't get off work until 11-12, funerals and a couple of weddings – things that couldn't have been foreseen……
I ended up refereeing Santa Rosa HS team against a combination of Milpitas (the official opponent) augmented by Elsie Allen players.
The game started with 8 Milpitas players, 2 from Elsie Allen and 6 on loan from Santa Rosa who didn't show much cohesion giving up three tries in 10 minutes. Milpitas did manage a single try in reply. Several more Elsie Allen players arrived and filtered onto field. Six first half tries went unconverted by Santa Rosa to three tries and two conversions from Milpitas for a 30 – 19 half time score.
The combine Milpitas/Else Allen team developed more cohesion in the second half, they also managed to kick a number of conversions. Two more tries to Santa Rosa in response to four (and three conversions) from Milpitas/Elsie Allen gave a final score of 40-41 a conversion of any one of their 8 tries by Santa Rosa would have given them the honours to go with the forfeit win they already had in the bag.
Date: 02/24/2018
Santa Clara 10 – UC Davis 46
Referee: David Pescetti
The score does not reflect what this match was. This match was tight and quick paced. Neck a neck for the first half, that was until a key injury occurred to the Santa Clara 10. The punch, counter punch left when he was helped off the pitch. The context of the match changed. Davis punched, and it took longer for SCU to respond. The game slowly shifted from a dominant Santa Clara team, to an even match, and lastly to a Davis favored match as time ticked off the clock. It went from a 65% SCU ball to a possession which favored Davis. At the half Davis led 17 – 5. A game still within reach for SCUts. However, as the second half wore on the game, slowly, went out of reach. Davis 46 – SCU 10
Date: 02/24/2018
Santa Clara B 24 – UC Davis B 31
Referee: William Nelson
Everything seemed good!
(EDITOR'S NOTE: This is some top end, focused reporting. Definitely not Fake News.)
Date: 02/24/2018
Sacramento State Women 22 – UC Santa Cruz Women 36
Referee: David Hosley
UCSC Assistant Coach, whom the head coach identified as Scott Palmer, did not stay in the zone but early in the match went to far side of the pitch. The CSUS coach brought that to my attention about 15 minutes in to first half, I asked the head coach to bring him back, which he said he would. About ten minutes later, the CSUS coach said the assistant was still out of the zone, and I admonished him to return or be removed from the pitch. He slowly complied. When I discussed the issue with UCSC's head coach, whom I believe to be Chet Angus, after the match he said he lost sight of the assistant because he was focused on the match. I believe UCSC was trying to place a coach on the far side of the pitch for a coaching advantage.
Date: 02/24/2018
Olde Gaels 61 – Chico Mighty Oaks 33
Referee: Robert Hammack
Good back and forth match played with skill by both teams. Chico had plenty of opportunities to score additional points in their 22 but, ultimately, little errors cost them (knock-ons, missed lineouts, etc.).
Date: 02/24/2018
Life West Gladiatrix 36 – Berkeley All Blues WPL 25
Referee: Scott Wood
Life West traveled from Hayward to Sacramento to host Berkeley for this non-league match. This was to accommodate the logistics involved with Berkeley All Blues D2 facing off against Sacramento Amazons in the opening match.
Robla Park has never been well known for having much grass. With the return of drought-like conditions, the grass has migrated to greener pastures. However, two scrums were formed over some semblance of vegetation.
A well-played match with several lead changes. Several scoring opportunities were lost to penalties.
HT: Life West Gladiatrix 14 / Berkeley All Blues 15
Berkeley led 25-24 before Life West was able to put in two unanswered tries. The All Blues had an opportunity to score a try at final time but the ball carrier was pushed into touch less than a meter from the goal line.
Kudos to Catie (Life West) and Allie (Berkeley) for their captaincy and both teams for an exciting match.
Date: 02/24/2018
Life West D2 28 – Vacaville 38
Referee: James Hinkin
Looking at the standings one would have expected a comfortable victory for Life West over Vacaville this past Saturday but, as they say, this is why we play the game. Outsized at nearly every position, Vacaville threw themselves into the mix with wild abandon and proved that you can not sleep on a well-coached side and Chris Motes is a well-coaching coach. A lack of commitment from the home side saw them struggle to find 15 players to start the match and in fact the match was delayed two minutes so that 2 players who literally just walked up could put their boots on and start the match. Vacaville took full advantage of this lack of preparation and jumped out to a 19 point lead within 20 minutes. Sharp, angled running lines in midfield were cutting up the Gladiator's backs while good technique and full commitment stopped the larger Life West forwards from making any progress. As the game progressed, however, Life West seemed to finally warm up and get their heads in the game and the contest balanced out. The last 20 minutes of the first half saw an exchange of tries to go into the break 26-7 to the Vacavillians.
The second half was the bizzaro version of the first as Life West came out on fire. More players had showed up for the home side and substitutions were made and paid immediate dividends. A pair of quick tries cut into the Vacaville lead and suddenly we had a game. The intensity rose as both sides realized that we were balanced on a knife edge. Vacaville were the next to score to increase their lead to 31-21 but the Gladiators replied to narrow the gap to 31-28, the closest they had been since the opening kickoff. With 7 minutes left and all the momentum going the home side's way it looked for all the world like an epic comeback but Vacaville stuck to their guns. Desperately defending their line they first held up an attacking maul in goal, then defended the ensuing scrum and several phases of "I am bigger than you" crash ball until they finally were rewarded with a turnover. Running the ball out of their 22 ended with some controversy as a Vacaville wing was tackled near the touch line and, clearly seeing the ball infield, I played on. The touch flag went up while I called "PLAY ON" and Vacaville ran wide around the far side to score a try. Chaos ensued as several Life West players had stopped and were remonstrating with the TJ (a LW man) and the Vacaville team, who remonstrated right back. After consulting with the TJ I waived off the try and awarded the lineout, a decision that was made easier by a Vacaville player arguing with me about the call. (Seriously? I have awarded you a try and you are arguing the call?)
Fun fact, there are 2 reasons why a try may be taken off the board and one of them is touch. Law 18: "When play reaches a touchline, the ball is in touch and becomes dead." Combine that with Law 7.3.f "Advantage must not be applied and the referee must blow the whistle immediately when…The ball is made dead."
This all became academic when Vacaville scored on the ensuing set piece, stretching their lead to an unassailable 38-28. Well played by both teams and I must call out both captains for being a pleasure to work with and helping keep an intense finish exciting without disintegrating into a penalty fest.
Date: 02/24/2018
Danville Oaks RFC 27 – Granite Bay Grizzlies 19
Referee: Andrew Stockton
This was an excellent curtain raiser match at Witter Rugby Field. Both teams were incredibly competitive throughout the entire match and were playing with grit, heart, and determination until the end of the match.
I had originally thought that Danville, who I have seen a couple times over the past year or two, was going to walk away with a relatively easy victory. They have had good discipline, incredibly talented players, and some great tactics. I had seen Granite Bay the week prior against SOLO, and thought that they would be relatively disorganized (although that may have been a byproduct of an incredibly disorganized SOLO team).
My prediction could not have been more off. Both teams played a fast, hard hitting game with multiple line breaks and bone-crunching tackles, and some fantastic tries. Danville was able to score a couple of early tries and Granite Bay answered right back, keeping the first half tied. However, when Danville was put a man down for repeated ruck infringements, Granite Bay was unable to capitalize, and gain a lead. In fact, Danville, through a series of lucky breaks, was able to score a try while down a man, and effectively put the game away after that.
I think that given a second chance, Granite Bay would give Danville a run for their money and could most certainly beat them.
Date: 02/24/2018
CSU Monterey Bay Women 10 – Santa Clara Women 70
Referee: Larry Freitas
Drivng down Highway One on the morning of the 24th of February, I saw the snow capped higher peaks of the Santa Lucia Mountains in the distance. Yes, winter has returned to this area of California. I arrived at the CSUMB campus by 10:30 AM, and everything was set to go on this cool morning, a perfect day day for rugby at 50F. There was a breeze blowing in off the ocean, and clouds off in the horizon heading toward land. I saw that both teams didn't have a lot of players, and in fact at the kick off Santa Clara University had 13 ladies kitted out to Cal State Monterey Bay's 14. Both teams have had some injuries, but even more critically haven't been able to recruit enough players to have a good amount of subsitutes on hand to replace those who get hurt, or otherwise miss matches because of other committments, be they studies, work, or anything else.
CSUMB won the toss and elected to defend the north end, figuring to have the wind at their backs for the second half of the match. The ground was firm, as little rain fell on the Monterey Peninsula during the fronts that went through the area during the week.
The game got off to a fast start for Santa Clara, as the Bronco women scored a few tries early. From a scrum some ten meters out Jessica Lew-Munoz, playing at 8, broke through a few attempted tackles and got the visiting side its first points for a 5-0 lead at 4 minutes of play. At 11 minutes Carley Fowler got the last pass from a ball that got passed through the hands of the backs, and ran away from the cover for another try and a 10-0 lead. It seemed at this point of the game that Santa Clara had the superiority in the backs, as they were running onto the ball as opposed to Monterey, who's flyhalf was not getting good ball, and therefore not able to distribute quality passes to her backs, who were getting knocked over by the Santa Clara defense time and time again. Otters Janike Stein and Isis Smith rarely got touches that amounted to any gained ground. In the meantime Rachel Schneider, Carley Fowler, and Courtney Davis were running rampant through gaps and scoring tries or setting up tries for Santa Clara. In the forwards things were fairlly even, whether line outs or scrums, no one side dominating the other. Davis and prop Mariela Murillo each scored two tries apiece for Santa Clara to finish their scoring in the first half to give them 34 points, with Murillo connecting on two conversions, one for her own first try of the match, and for Davis' second try. I am really impressed by Davis, who is on the smaller side, and has speed and the ability to side step tacklers, and change direction in her running. The ball got swung right out to the backs for that second try, from a lineout near the 22 of CSUMB, and she took the pass at her outside center position and wrong-footed a defender to glide past the goal line to touch down at the pitch's north end. She's a freshman. CSUMB did score at the 23rd minute when flanker Aliana Criado scored a try that was unvconverted. Half time score: 34 for Santa Clara, 5 for CSUMB. CSUMB lost Isis Smith to a groin pull injury, taking out their fastest back playing at full back.
The second half was a repeat of the first, with Santa Clara's tries coming, in order, from Fowler at 46 minutes, for 7 points, followed by Schneider who basically returned the restart kick after the ball went through several hands, at 48 minutes. She scored another try at 55 minutes. Scrum half Stephanie Haro scored a try at the 68th minute of play. By this time CSUMB had a few more injuries, and were down to 10 on the field. I asked their captain if they'd be willing to finish the match if Santa Clara took out some of their players to even the sides, and the visitors agreed. Two more Santa Clara tries were scored, as Davis once again got the ball and had space ahead of her and no one able to catch her from behind. At 73 minutes Carley Fowler picked up a ball at the base of a ruck and scampered nearly half the field to the goal line under the posts at the south end. Near full time Stephany Arriola scored a try for CSUMB from close range. Final score, Santa Clara 70, CSUMB 10. A rather clean game played. I didn't have too many penalties to call overall. Some few offsides now and then on either team's back line, and a hands in the ruck call once, and a Santa Clara player entering the side of a ruck on another occasion.
Looking back at the season that is now in its final few weeks, I recall how CSUMB, when it had all their players available, starters or substitutes, lost by just two points to UC Santa Cruz in mid-November. UC Santa Cruz pulled ahead of Santa Clara in the last twenty minutes of play in that game in Janauary to win. I would have expected a close game today, using the evidence of those past two matches. I can only say that Santa Clara has been fortunate not to lose their best players, as CSUMB has lost three of their best players, two in the back line and their hooker, not able to play in this match. It made all the difference today.
CSUMB has one more game on the 10th of March to finish against USF. Santa Clara plays one more home match versus Sacramento State on the same day. Hopefully by then both teams will have fifteen out on the pitch at kick off.
Date: 02/24/2018
Central Coast RFC 48 – Reno Zephyrs 27
Referee: Paul Simko
On a partly cloudy day, with temperatures in the mid 50's, I began to wonder why I left the warmer temperatures of Singapore. The game moved to San Jose due to field issues in Seaside, and the generosity of the San Jose Seahawks saved me a few hours that day. Both appeared to be struggling with numbers with a number of new players. Despite a yellow card in the first half for an intentional knock on, Central Coast (The former Aptos Beachdogs) went up 29 to 12 in the first half. The second half was much the same, but within the last 5 minutes, Reno scored 2 tries to even up the try total for the second half, making the final 48 to 27 in favor of Central Coast.
Date: 02/24/2018
Cal 39 – UBC 1 36
Referee: Tim Lew
No Report Received.
Date: 02/24/2018
Cal B 147 – USC 0
Referee: Roberto Santiago
Not a lot to see here. Cal was Cal. USC traveled with less than a full roster and had to go to uncontested scrums after an injury to one of their props. To their credit, the Trojans played with the same effort and determination from start to finish. They stuck together in the face of adversity, never complaining about anything. They lined up, kicked off, and played the best they could all the way through. The Gold Bears were just better.
Date: 02/24/2018
BA Baracus 21 – Sacramento Capitals 32
Referee: Peter Sandhill
The Sacramento Capitals traveled to SF to take on BA Baracus in this D2 men's matchup. Baracus have returned to their home field this season, in the SF Sunset area, after being displaced for two years due to major rec. complex renovations. Refereeing with the Pacific Ocean as a backdrop is something special, especially on a nice sunny afternoon on a grass field.
This was a close game with Baracus scoring in the first two minutes after starting fast and pressuring the Capitals backs. The Capitals then settled and ten minutes later scored through a nice team try. Around the twenty min. mark, the Capitals pulled away as their backs hit their stride and scored two more tries and a PG to be up at halftime 24-7.
Baracus brought on a few big men at halftime and came out firing, ready to take the fight up front and their forwards began to dominate. While the Capitals had a foray into the other half and scored a PG, Baracas camped in their half for around 25 or 30 min. scoring a hard won try and later another. With the scores at 27-21, the intensity rose for the final ten min. Mostly, clean hard and fast rugby. The Capitals scored on the bell to take the score to 32-21.
The Capitals #10 had a great day with the boot with some well placed line and field kicks as well five through the posts. Hats off to captains Robert and Kevin who worked to keep their teams behaving as the intensity rose.
This Week's Photo
Suprisingly, this came out BEFORE the famous cover with Kim Kardashian. And yes, I do agree that referencing Oprah Winfrey and Kim Kardashian in the same issue is a cry for help.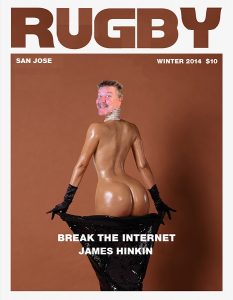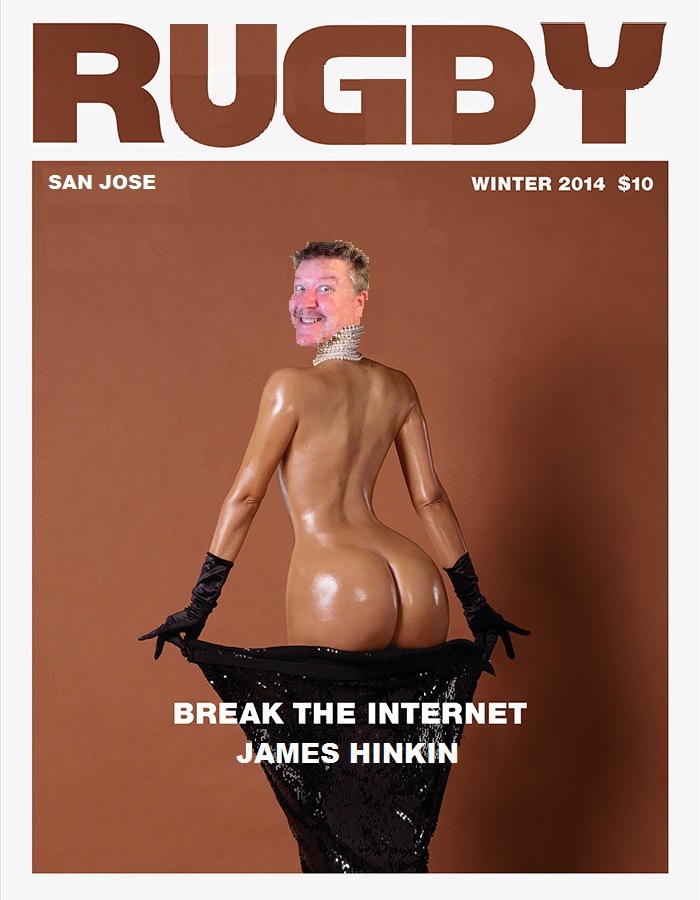 Hail, Pelicus!
For the Senate
Pelicus Pedem Referre