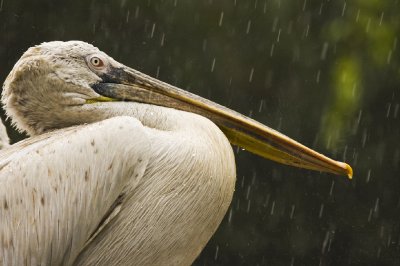 HAIL PELICUS!
Wet Pelicans
After the driest year on record in Pelicanland it was refreshing to finally get some rain last weekend. Rugby as a sport originated in England and that means rain and mud. Though as a player I treasured our Mediterranean climate that allowed for fast, dry pitches year round (I was a speed guy and was unlikely to run anyone over but often ran around them), as a referee I can appreciate a little mud now and again. It is a little disturbing driving over the Sunol Grade in February through dry, brown grass on the hillsides so with any luck the rains will continue to feed our thirsty land. It is desperately needed.
Tips on Writing Reports
Everybody loves to read the match reports submitted to HP, but, please, only the referee should write the report. There have been some double submissions as ARs and Evaluators/Coaches have also written reports. Also, please do not use the assignr match report to report foul play. This should be dealt with as prescribed in pelicanref.com -> Resources -> Match Procedures. Thank you.
Our Sport Is Better Than Your Sport, Deal With It
Reason #285 why rugby is The Game That Is Played In Heaven: A friend and member of the local rugby community recently moved to Chile and, naturally, there was a going away party. One of the players was chatting with a stranger at the bar when I arrived to place an order and I was introduced as a referee. A look of astonishment appeared on his face as he explained he coached both youth football and adult basketball as well as various other sports and teams previously and had never in his life socialized with a referee. "I wish I could drink with my referees" he said, trying to be cunning. His idea was that the referee was an adversary that he needed to entice to his side so he could get better calls. The thought that we are all brothers and sisters in rugby together and this is just what we do never occurred to him.
Society Meeting, Wednesday February 19
Mark your calendars. Time and location is as per usual, SFGG Clubhouse on Treasure Island. Referee Development Committee starts at 6:00 with the general meeting starting at 7:00.
Call To Arms
Well it could be a "call to wings" but you can only extend the pelican motif so far. What isn't in doubt is our pressing need for referees. We currently have uncovered games this weekend and are scrambling to fulfill our obligations. As always, if you have ever thought about taking up the whistle, striding nobly to the center of the pitch and taking command of a match pairing worthy adversaries, then please contact our Scott Wood at rscottwood@gmail.com . He will get you all the information you need to sign up and announce your availability on assignr, our game management software. Even if you have not taken the Level 1 course we could still use referees for B/C side matches. As I was informed after last week's announcement, "It is a requirement… that a referee must have completed the Level 1 Officiating course before officiating any match that potentially may lead to a national championship. It also is a requirement that a referee must first complete the Level 1 Officiating course before attaining a referee grade of C3. Otherwise, picking up the whistle and giving it a go as a referee before completing the Level 1 course may be the step that leads one then to say this OK and I want to take the course."
And On To The Games
Date: 02/08/2014
SFGG PRP 23 – Denver 9
Referee: Ranaweera, Aruna
In the 2nd weekend of the inaugural Pacific Rugby Premiership (PRP), SFGG hosted the Denver Barbarians on a soggy field drenched by intermittent rain. The PRP is a newly formed competition that consists of former Super League and/or Elite Cup teams from California and Colorado. The game was very physical and featured several passages of inspired continuity, but play was also marred by frequent handling errors and a lack of self-discipline by some players. SFGG led 17-9 at the half and scored 3 tries, all in the first half. The 2 Assistant Referees, Bruce R and Tom Z, provided solid support despite having refereed their own full-length matches earlier in the day.
Date: 02/08/2014
Fresno 22 – San Jose Seahawks 10
Referee: Bretz, Paul
On a puddle drenched field Fresno defeated San Jose 22-10 despite being down 2 players for the the majority of the second half. Fresno opened the scoring with a try at the 20 minute mark. When San Jose lost a man in the bin for a professional foul Fresno scored 2 more try's and a conversion to extend the lead to 17-0. San Jose scored a penalty kick to end the half. Midway through the second half San Jose took advantage of a two man advantage to move to within a try, 17-10. Fresno finished the scoring with a 70 meter run despite being down 2 men.
Date: 02/08/2014
Fresno B 22 – San Jose Seahawks B 20
Referee: Franzoia, Tom
Fresno held a 12 – 0 lead in the first half under sloppy conditions. The second half was controlled by San Jose who held the lead 20 – 17 as time expired, play continued with a succesful try by San Jose on the outside to seal the win.
Date: 02/08/2014
Fresno State 29 – UC Santa Cruz 27
Referee: Wilson, Dan
This was a game of two halves, literally. Santa Cruz opened the game with fantastic support, great ball movement and beautiful rugby. They two unconverted tries at the 8th and 13th minute. Unfortunately, I was told that they lost their kicker last week and those kicks proved costly. Fresno State had a hard time containing the Slugs and the difficulty showed in a yellow card for dangerous tackle in the 6th minute. Fresno State started to figure out that keeping the ball in hand, having their big boys up front run off of the left, right and left side again would work. They controlled a lot of the 2nd quarter scoring two tries, one converted. The Slugs also got one more try, with conversion. Halt-time FSU 10 – UCSC 17
The second half was much like the first half ended, with Fresno State controlling a lot with their big boys, while the Slugs were able to pretty ball with great support. The only blemish in the half was when a FSU player demonstrated his frustration after two beautiful cleanouts where he was the one being cleaned out. Yeah, he sat for 10-minutes. The try-zone was more favorable to Fresno State with three try's scored, two converted, but the Slugs responded with a penalty kick and a converted try of their own.
Unfortunately, the missed conversions were the difference.
Final Score: FSU 29 – UCSC 27
Date: 02/08/2014
Fresno State Women 66 – Sacramento State Women 5
Referee: Jury, Jeff
Overcast, good turf, good running and hitting by both sides.
Date: 02/08/2014
Humboldt State 32 – UOP 17
Referee: Richmond, Jeff
After 5 and a half hours of driving north through steady rain, the rugby gods intervened and reduced the downpour to a light mist.
Both teams came out to win the match with strong tackling and aggressive rucking. UOP was a bit too aggressive, earning yellow cards for high tackles. Humboldt put together some nice backline play, despite playing on a narrow football field markings. The coaches, players and fans made for a nice experience and worth the drive.
Date: 02/08/2014
Humboldt State Women – Santa Clara Women
Referee: Richmond, Jeff
Match Cancelled
Date: 02/08/2014
Marin B 7 – Baracus B 19
Referee: Noonan, Michael
A very cold, wet and rainy day. Pitch was lined for football and soccer, and had to make due with cones for 50 M, 10 M, 22 and goal lines, end zones were only 5 M deep at best. The field was safe though.
Date: 02/08/2014
Aptos 5 – South Valley 22
Referee: MacDonald, Neil
No report received
Date: 02/08/2014
CSUMB 12 – Cal Maritime 42
Referee: Kenny, Stephen
No report received
Date: 02/08/2014
EPA Razorbacks 48 – Diablo Gaels 0
Referee: Hinkin, James
No report received
Date: 02/08/2014
EPA Razorbacks B 19 – Diablo Gaels B 0
Referee: Donnelly, Kevin
No comments.
Date: 02/08/2014
Modesto 33 – Colusa 40
Referee: Wilson, Giles
Colusa travelled to Turlock and on winning the coin toss, elected to play with the strong wide at their backs. This suggested that a game of two halves would happen, but the reality was something of a variation.
Harlots started out strong, playing into the wind and built a 14-0 lead after 20 minutes. Colusa seemed to shake the travel out of their legs at that point and came close at the half with a 14-12 score.
The 20 minutes after the half also belonged to Colusa who built strongly with 4 more tries to lead by 40 – 14.
The Harlots came back alive with 20 minutes to play and managed to score three times to pull back to 33-40. They had left their comeback too late and couldn't complete the comeback.
A fun, exciting game on a field that was in better condition than Murrayfield.
Date: 02/08/2014
Napa Valley 0 – Humboldt 0
Referee: Rauscher, Eric
Game was canceled
Date: 02/08/2014
Sacramento Capitals 11 – Sacramento Blackhawks 22
Referee: Boyer, Rich
A wet winter's day greeted both teams. The match was moved from the Capitals' home pitch to Danny Nunn, which seems to be home pitch for both teams….This cross town rivalry promised to be an exciting match. It seems all players and coaches from both teams know each other and ref. Capitals got on the board early with a penalty kick after dual repeated shoulder charges by one Blackhawks player. No more would occur. Blackhawks responded with a crafty wipers kick just outside Capitals 22 and the wing made a deft pick up and dive try right against the touch line, conversion no good. Capitals responded with another penalty kick. The majority of the first half seemed to be: scrums. Sloppy conditions and sometimes silly decisions slowed the game down. Capitals dominated the scrums in the first half: skates come to mind. Capitals faced the wind the second half and quickly raised the score to 11-5 when big Vince (and I mean BIG) tapped on a penalty five meters out with an inevitable try the result. Conversion no good. Blackhawks finally had some good pick and drive, putting Capitals on the back foot, resulting in numerous penalties and a yellow card for a Capitals player who thought the Blackhawks ballcarrier was in the try zone so he fell on him and would not let go. Blackhawks back made a strong run off a pass and scored, conversion good. 12-11 Blackhawks, with the game heating up. Restart was delayed due to wet scorecard and an inability for digits to work correctly. Did I mention it rained and rained? The wind appeared innocuous, but it had an adverse impact on the Capitals when a kick for points was requested on a penalty about 35 meters out. The ball was kicked true, and it was going to be good for all the tea in China. A gust of wind prevented the ball from crossing and the Blackhawks were relieved. The last quarter saw Blackhawks on the front foot with a nice try by #13 Sione on a flat pass under the posts. Blackhawks had three more penalty kicks and, despite the wind at their backs, converted only one. Capitals rallied hard in the closing moments aided by numerous penalties and some wily play by veteran Mike Dopson. Eventually the conditions terminated the drive close to the try line. The game was played in good spirits. Thanks go to Jerry Ahlin and Rob Murphy for performing AR duties.
Date: 02/08/2014
Sacramento Lions 26 – SFGG 24
Referee: Akroyd, Phil
A/Rs: Jim Crenshaw and Eugene Baker.
Officer in Charge of Feedback: R. Scott Wood
Full-length studs, drenched during warm-up, pooling water on the field, parked next to an Arc. I miss this kind of rugby.
The Lions started out effectively, if not a little workmanlike in their style of play. They didn't do anything too flashy, but they played well with ball in hand given the weather conditions. They did have issues with remaining on their feet at tackle/rucks, but continued to blame the footing which was odd, because the footing was fine for the SFGG players. The reluctance to stay on their feet got them into yellow-card trouble a couple of times which really did hurt them.
The Lions stretched out an early lead but playing one man short for a total of thirty minutes helped Gate work their way back into it. In addition, it appeared that Gate cycled in some players who were maybe surplus to requirements from their PRP squad.
Either way, Gate finished strong and having scored a try in the last minute, at 26-24 with time dead, they had a chance to tie the game and cost me a load of beers. Thankfully for me and the Lions, but unfortunately for SFGG, the southerly gale directed the conversion just inches to the outside of the right-hand upright.
The Lions got a scare and I got a closer game than I'd anticipated. I also got a good amount of feedback from Scott Wood, Jim Crenshaw and Eugene Baker. Mucho respect to those guys for putting up with the conditions when they could have stayed at home.
Date: 02/08/2014
Sacramento Lions B 7 – SFGG B 31
Referee: van Staden, JC
En op die 8ste dag het die Here reën gestuur….
Dit was baie nat, maar net as n mens dink jy het al alles gehoor, dan kom nog n rugby-dag…
Na die 2de geel kaart, binne 7 min uit mekaar uit, duik die heelagter in n man se bene met geen en maar geen arms nie… Mens sou dink dat na 10 jaar se reffereeing, die manne moet weet dat ek n man van my woord is…
Met 3 manne in die bin, moes 12 hulle man probeer staan teen SFGG, en hulle het.
Na half tyd verloor Sac nog n man aan werks verpligting, en moes die wedstryd klaar maak met net 13 man. SFGG het hulle ritme gekry, bal begin wyd swaai, en van daar het die drieë in gestroom.
Dankie aan Eugene Baker en Jim Crenshaw, wat deur die reën gestaan het om my te help tot die einde… Jong manne, vat notas…. ""Respect get earned""
Date: 02/08/2014
Santa Rosa 32 – Life West 5
Referee: Zanarini, Tom
Torrential downpour would be an understatement. The drive up to Santa Rosa was a white knucklefest that I didn't particularly enjoy. But, I made it in one piece to find both teams warming up in the rain. For Pete's Sake Field is a world away from Humboldt's Manila Island. It's as if the field was chugging the rain by the gallon it was in such good condition. The match kicked off promptly at 11:30 and we were in for a great match. I didn't know what to expect from Life West. I am happy to report that they are a hard running and well disciplined outfit. They matched Santa Rosa fairly well, especially for a new d 3 club. The rain never let up and neither did the contest. Overall a great game in perfect (rugby) weather. No sooner was I blowing the end whistle that I was in my car to assist Aruna at Treasure Island in his PRP match of SFGG v Denver. Not as wet on the island, and not a better contest than my previous match, unfortunately. But I was happy to assist Aruna and learn from one of Pelicanland's best.
Date: 02/08/2014
Santa Rosa JC 0 – Sierra College 0
Referee: Leisek, Joe
Rained out
Date: 02/08/2014
SF Fog 0 – Redwood 40
Referee: Ricard, Bruce
Rainy day on Treasure Island. Redwood is dominating the first half and scores an early try, but there is aggressiveness from both sides. Around the 20th minute, a fight starts after a penalty taken quickly and a player not back 10 tackling. Punches are thrown and 2 players from Redwood are sent off. The game was much cleaner after that.
Despite playing with 12 players after a player was sin binned for a dangerous tackle, Redwood leads at the break 7-0.
Redwood dominated the second half, scoring 5 tries to nothing.
6 tries to 0.
Date: 02/08/2014
Sonoma State 90 – USF 0
Referee: Bertolone, Cary
No report received
Date: 02/08/2014
St. Mary's College B – UNR
Referee: Hettermann, Matt
UNR canceled on Saturday morning. Donner Pass was probably a mess.
Date: 02/08/2014
St. Mary's College C 0 – UNR B 0
Referee: Pescetti, David
Game was canceled
Date: 02/08/2014
USF Women 0 – UC Santa Cruz Women 17
Referee: Bernstein, Bruce
USF held UCSC from scoring for first 20 minutes, & played with a lot of heart.
However, UCSC was well-coached to keep their momentum alive by handing it to one forward as big as the other–all bigger than anyone on the hosts.
High School Matches
Danville Varsity Gold 25
Lamorinda Gold 3
Referee: Bryant Burns
In a battle of East Bay high school heavyweights on a absolutely soaking wet day, Danville prevailed. Although only 10-3 at half, the Oaks keep the ball in their (larger) pack, and simply ground it out.
A shout out to Ryan Luis, who does a lot of reffing on the junior circuit. A lot. On this dreary day, he did two games and touch judged another.
This Week's Photo
As again there were no photo submissions this week I went with another symbolic picture, one of a pelican in the rain.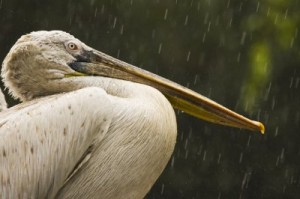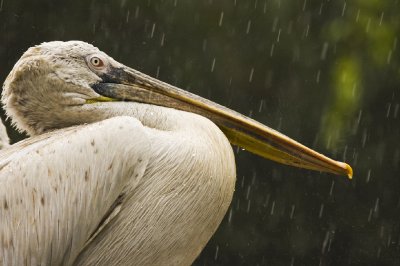 Hail, Pelicus!
For the Senate
Pelicus Pedem Referre