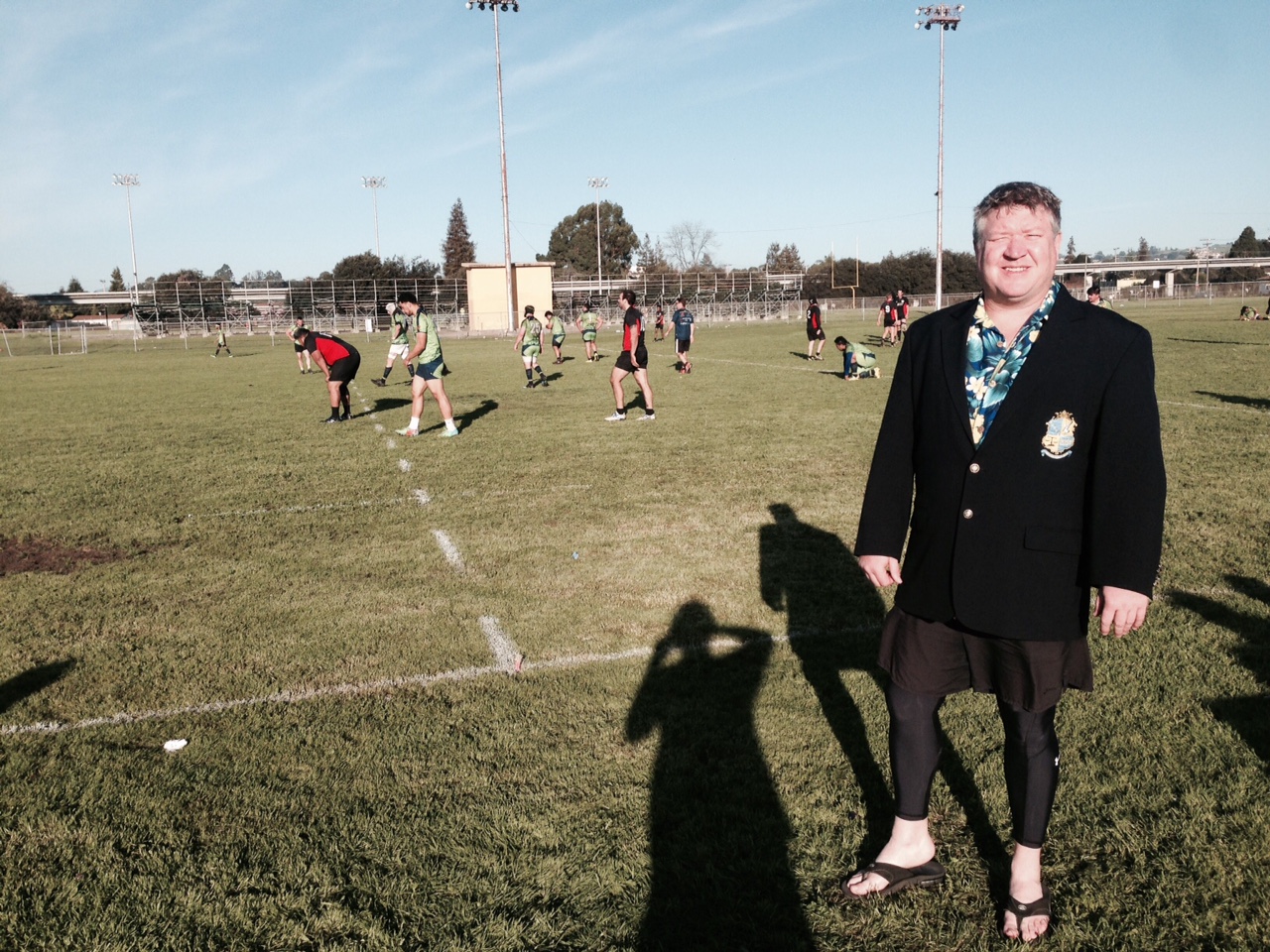 HAIL PELICUS!
Winter Break
We all took a break from winter last week as temperatures in Pelicanland soared into the 70s and even low 80s (34 centipedes in SI units) but according to the Weather Priestess the El Niño rains will soon be returning in force, so don't put away that rain gear just yet.   I hope everyone wakes up to one more sunny Rugby Day with the bold, italic taste of freshly brewed coffee kick starting a day of sun, fun, whistles and tries.
Down in the valleys our reservoirs are starting to fill up and up in the mountains our snowpack is getting up to 100% of normal, but as we are in a multi-year drought we need more than that.  Time for nature to give more than 100%.   Fellow Pelicans, take advantage of the free tanning sessions because it won't last.
As Ford Prefect asked, "You got a towel with you?"
Inspiration or Desperation?
There seems to be some confusion or possibly unintended misdirection in much of the poetry and nonsense that is produced here in the Hail Pelicus.   We, the editorial staff of HP, would like to state that we are just not that original, but do think we are pretty clever when it comes to satirizing or otherwise appropriating the works of others.   This was true in the past – the poem celebrating the US 7s win in London was almost line for line taken from "Casey At The Bat" – and is still true today.   I had responses from more than one Eric regarding last week's "Song for Eric (Ode To The Truncated B Side Match)" suggesting that the poem was directed at them and they really don't complain about short B sides all that much.
That is not the case; remember, we are not that original. The poem/song was taken from the classic Monty Python sketch "Eric The Half A Bee" (the hint was in the title).   I used the Monty Python sketch to highlight the number of B sides that play 20 minute halves and, well, "half a bee" fit perfectly.   At the end I also reminded clubs that they still get charged a full match fee no matter the length of the match itself, so there is that as well.
Because it is hilarious I recommend you take a moment to watch the sketch here: https://www.youtube.com/watch?v=NVhXkQu5_Ig .  Those readers who are currently off their medications (or on some of the better ones) can go back to last week's HP and sing along with our updated lyrics.
Trigger Warning!   If insect sodomy offends you then you may want to skip it.
There are other Easter Eggs scattered throughout most HPs as well, you, dear reader, just need to look for them. For example, last week's Ask A Pelican question about high schools came from David Wooderson, which happens to be the name of Matthew McConaughey's character in "Dazed and Confused".   Yes, we do think about these things.
Las Vegas Needs Refs
Apparently LVI Tournament Director Jon Hinkin was upset at last week's call for LVI referees stating, for the record, that "I give great gifts". His passionate pleas have swayed the editorial staff here at Hail Pelicus and we fully retract last week's statement that he gives thoughtless birthday presents and want to say that we truly enjoy the belly button lint brush he gave us last year.
Now that that unpleasantness is cleared up, if you are planning to go to Vegas for the USA 7s and want to referee at the LVI, details are here:
Referees – we need your help as a volunteer with the biggest tournament this spring – Las Vegas Invitational March 3, 4, 5-6th! We have 70 refs currently registered… and need 40 more refs!!!!!!
Referees will receive:
1. Free referee jersey
2. Tickets to all 3 days of the USA 7's International tournament (when you stay at The Westgate Hotel) at LVI Discounted Rates.
Hotel Register HERE:
http://www.usasevens.com/las-vegas/official-lvi-hotels/
Referee Register HERE:
http://lvireferee2016.doattend.com
For more information email Autumn Arvidson at mnrugbyref@gmail.com
Ask A Pelican
Yes, it's time for this week's installment of "Ask A Pelican", the widely loved Q and A session with Hail Pelicus.   This week's question comes from Edmund Gerald Brown, Jr of Sacramento, CA who asks:
"I am new to the Pelican Referees and I feel a little left out because I don't have a NCRRS track suit or kit bag, not to mention tee shirts or polos.   I don't even have ties or pins to wear and trade with other referees.   Will we ever order more and if so, when can I get some?"
I would like to say is an honor to have you in our society, Mr Brown and that you are not alone in thinking we need new kit.   Even the grizzled veterans of the society have noticed that their kit bags and track suits are becoming more grizzled than they are.   The NCRRS has appointed a new kit cat, Pelicus Pedem Referre, who you may have noticed handing out the jerseys, shorts and occasionally socks at our monthly meetings.   He is working with the NCRRS board to update our kit and will be sending a request for orders out to the flock soon.
Disciplinary Action Reporting – Process For Reporting Incidents
The various competitions all have their own disciplinary chairs and this will make it difficult to centralize the communication and data.  To help Scott Wood has developed a form that will centralize the process, regardless of the competition.  The link to the discipline form is https://docs.google.com/forms/d/1mmUNg11uVOSkIsUtHifSqQzalhWbwohk_J6AmPyrucQ/viewform
Copy the link and have it available on your smartphone.  If you have an Iphone add the link to your home screen.
When needed fill it out and click submit.  The discipline chair of the competition you refereed will receive a notification about the incident.
He/she may contact you latter for more details.
If you have any questions as to how to use the app please refer to the the following video: https://www.youtube.com/watch?v=_Uz0_gTaOnY
On To The Game Reports!
Date: 02/11/2016
Solo 28 – Danville 22
Referee: Boyer, Rich
Great match. Very lively players with great gameplans. Standouts include Solo ten and fifteen, Danville nine and eight. Great offloads, tactical kicks and chase. Solo came out on fire and scored two tries in the first six minutes as a result of open play and backs offloads. Danville came back strong on the back of their number 8 and some precision running into gaps by 10 and 12. Solo were beneficiaries of Danville infringements within easy shot of posts and their flyhalf kicked three penalties, two which proved to be the winning margin. 22-10 Solo at half. Danville retrieved momentum somewhat in the second half, with an unconverted try at the death. Really good play and sportsmanship exhibited by both teams.
Date: 02/12/2016
Oakland Warthogs 36 – Los Gatos United 43
Referee: Madsen, Erik
Both teams showed a lot of heart through the entire match. It started with 3 unconverted trys to Los Gatos from some long runs in the first 15 minutes. The Warthogs kept working and battled back to put 2 unconverted trys up with the the first half ending by a last score by Los Gatos ending the half 10-22 to Los Gatos. The second half was nearly the reverse of the first with the Warthogs coming out the gates with 3 trys (2 converted) under 15 minutes. With some back and forth scores the game came down to a break away run with a forward pass to the wing by Los Gatos. The following Warthog scrum was lost and Los Gatos showed great speed and hands to score. The final was 36-43 Los Gatos in a fast paced high intensity match.
Date: 02/13/2016
Berkeley 10 – Chico 17
Referee: Wood, Scott
Venue: Godfrey Park, Alameda
Chico benefited more from Berkeley's penalties than a cohesive game plan. Both teams have good back lines but space was impacted by a pitch less than 70 meters wide.
Date: 02/13/2016
Berkeley B 21 – Chico B 10
Referee: Madsen, Erik
Following a hard fought A-side match, the B-side followed to be well contested. Both teams had great numbers and didn't have a lot of guys playing double duty so they played nearly a full length match (30 min halves). The first half didn't have a scrum till 15 minutes in (although a few penalties) and ended up 7-10 in favor of Chico. The second half had some scrappy play from both sides and working down the field with the results favoring Berkeley with some dynamic running through the middle by center that could not be brought down. End result was 21-10 Berkeley Bs with great attitude and play from both sides.
Date: 02/13/2016
California Women 5 – UC Davis Women 83
Referee: Tetler, Jen
It was a beautiful day for rugby at Witter field on Saturday. Both teams came out hard, but Davis kicked off and got the ball back for a quick score in the first few minutes. They followed up with another breakaway a few minutes later. Cal had some good hands and answered with a try of their own, but that was the last time that the Bears would see the try line, even though they had several good series with ball in hand an got a few balls out to their winger. Davis was just overall faster and harder to tackle. Cal was able to make a couple of poaches, but Davis had excellent support all the way down the field, they would pick the ball before a ruck could even be formed and then would break through one or two people before they would go down again. Davis had some super speedy wingers and their #12 could zig zag her way around most people then accelerate to the posts. I was impressed that Cal fought the whole time and never gave up. Great job to both teams.
Date: 02/13/2016
Chico St Women 31 – Stanford Women 17
Referee: Hosley, David
The Valley was awash in almond and peach blossoms as I went north for a spirited contest between Chico and Stanford women. Close until late, the Chico women kicked and covered to their advantage and won going away.
Date: 02/13/2016
Colusa 81 – Aptos 7
Referee: Boyer, Rich
A crystal clear day, with the snow capped peaks of both the Sierras and Coastal range in full view, on the way to Colusa. This, combined with the amazing contrast of blooming almond orchards and the bright green grass brought on by last month's rain, made for a most excellent drive.
Colusa opened strong with good forward play and quick back ball, with Grandma (he's only 25 years old), the inside center making the most of it and having a hand in the first three tries, scoring one himself. Ardie the openside was conspicuous by his work rate and strong ball carrying (and WAY too conspicuous in his post match attire). Aptos had moments of brilliance but were bothered by silly mistakes. Colusa tracked to a point a minute in the first half capped by 46 years young prop Paul Santinelli's burrowing try.   40-0 at half.
Colusa subbed in younger players for the second period; Aptos had none. Aptos flanker Matt was very good chasing the restarts, the young kiwi inside center showed great skills with poaching, but it wasn't enough. Colusa picked up in the second half where they left off the first: a point a minute. They illustrated sublime offloading in tackles, led by captain Cody Beckley, and it seemed they had a never ending overlap.   But all of a sudden the Aptos outside center Fox makes himself known with two scintillating runs. Then he breaks one for a 70 meter try leaving pursuit in his wake. But after this it was all Colusa, again. Credit to Aptos for never giving in.   And credit to the great Colusa fan base.
Date: 02/13/2016
CSUMB 14 – USF 24
Referee: Freitas, Larry
This game was played at USF instead of CSUMB, as the venue was changed some time ago by the two schools. USF's turf soccer field was the destination, and on the day one couldn't have had better weather in San Francisco: about 70F at game time under sunny skies and no wind blowing onshore from the ocean. The problem with the day was the field itself, as the goal posts were on the deal ball line, which is the actual goal line for the soccer, with the goal lines placed at the six yard box line across the pitch using tape. The 22 was partially taped across the pitch only some 17-18 yards further up field. I won't go on about this except to say that college kids should know how to use some device to measure distances, and that perhaps USF's rugby club should look into using one of the many fields that exist in San Francisco, with a grass surface!
The game started with some movements by both teams' back divisions, finding some space to move the ball out wide before being checked by the cover defense. Finally, some eight minutes into the match, USF's inside center, Joe Burson-Ryan, scored a try with some nifty running; 5-0 USF, drawing first blood, which would spill some from players as the game progressed. At 22 minutes the Dons would score again, this time when their halfback, who had just previously failed to score when his foot was in touch as he dived into the left hand corner, did score from a five meter scrum awarded after a crooked CSUMB throw from the lineout, as he made a break in a very determined fashion. Now it was 10-0 after a failed conversion attempt. The tackling in this game was hard, but clean, and falling on that turf meant perhaps an injury was likely, and therefore one CSUMB player went off with a shoulder separation, and thirty minutes in Mario Chavez, CSUMB's outstanding center who last week scored on a 40 meter run against Santa Rosa, went down with what would later be diagnosed at St. Mary's hospital with a torn ACL. Unfortunately the injury, though a mere five feet from the touch line, stopped the game for 20 minutes, as he had to be taken to the hospital in an ambulance. Play resumed with ten minutes left after such a long break, and USF would score again, when a penalty was run in from five meters out. CSUMB would score a try near the break when a maul formed a few meters USF's goal after a tap penalty, and one of their forwards used all his strength to place the ball over. Josh Silver, CSUMB's flyhalf and kicker, converted from a good distance and angle. Immediately afterwards one of USF's coaches yelled over at me that kicks needed to be taken at the other end of the pitch, as homes were behind the south end, and those living in them didn't like balls kicked over the very high fence; the ball didn't end up in anyone's yard, this just another reason that this isn't such a great venue for a rugby match. USF's lead at the half was 17-7.
One issue I was having had to do with both front rows, usually CUSMB, anticipating the "set" call. Both teams were penalized for barging at least once, and finally that problem disappeared. Both teams were able to win a scrum against the head as well. Another issue was one of CSUMB's players getting a bit lippy, with the opposing side. I advised both captains to keep their players temperatures down. I didn't want any fights breaking out; none did during this game.
The second half commenced and neither team was able to do any scoring for the majority of the time. USF had one long break down near the left-hand touch line, looking as though they would score, with some perfectly-timed passing, taking advantage of an overlap and supporting runners. Unfortunately, some twenty meters from the goal line, with one last CSUMB player chasing desperately, he was obstructed as he was closing in to make a tackle. I yelled out "I saw that" and blew the whistle for the penalty. Ten minutes before full time USF would score, as Joe Burson-Ryan kicked and chased, recovering the ball and finishing off a try that was converted to basically seal a win for the home side with a 24-7 lead. Not to be outdone, Josh Silver of the Otters would score a try from a free kick that was run from some thirty meters out, receiving a pass, feinting to run wide, cutting back in and finding an open field ahead of him to sprint to the goal line, touching down to the left of the posts. As I turned around after marking the try some from both sides were jawboning at each other again, with the CSUMB player previously mentioned the cause. He had already been warned by me not to talk anymore during the match, or he'd be sent off, as he had done some taunting beforehand that didn't go over well with USF's players. By not talking I meant not at the other team, however, and let USF's captain know that was what I meant.   I would expect a player to celebrate some after his team scored, along with his team mates, and I couldn't claim any taunting had occurred after this last try of the match was scored; I was some twenty meters away at the goal line. As it was I had to use my judgment that no further conduct contrary to good sportsmanship, covered by Law 10.4 m had occurred, just some celebratory words. Silver, who is English from Yorkshire and is a visiting student, and has a siege gun of a leg, converted the try easily enough. The game ended with USF having a 24-14 lead.
I want to thank CSUMB's team leader Nico Di Jorlando for giving me a ride up to the match, picking me up in Seacliff. He'd never driven on notorious California Highway 17 beforehand, and neither had the other CSUMB player who gave me a lift home.
Date: 02/13/2016
Diablo 10 – Baracus 57
Referee: Richmond, Jeff
Baracus was just too strong all around for Diablo to keep up with. Diablo had a fair number of less experienced players but never backed down and played hard to the end. The fast conditions at Cal Maritime fed Baracus' speedy back line. Of note was Baracus' ability to dominate scrums; they probably stole a third of Diablo's put-ins. The last 10 minutes got a little sloppy as substitutes began streaming in. Thanks to Mike Malone for the coaching.
Date: 02/13/2016
EPA Razorbacks 26 – Sacramento Lions 13
Referee: Smith, Pete
Great game, hard fought and well earned. EPA were better on the day, but the talent level is very similar and this game can go either way at the rematch.
Date: 02/13/2016
EPA Razorbacks B 34 – Sacramento Lions B 0
Referee: Smith, Pete
7's. Fresh players versus game tired
Date: 02/13/2016
Fresno State WR 68 – St. Mary's College WR 7
Referee: Jury, Jeff
A beautiful day for rugby in Fresno. Kinda hazy with the temps in the low 60's.
Both sides appeared fit and ready for the contest. The CSUF women surprised St. Mary's women with their straight lines and direct running for a half time score of 35-0. The second half was more of the same with a couple of the Gael's athletes desperate side ways runs that did equate to a score, but pretty much played into the Fresno D. Final score CSUF 68 St Mary's 7.
Date: 02/13/2016
Granite Bay 30 – Mother Load 19
Referee: Taueva, Favor
Mother Load seems not able to have the ball no longer then 5 minutes then is a turn over to Granite Bay. Granite Bay have the ball and use it for their benefits even they were having a hard time to break though Mother Load defense skills. When you play defense all the time eventually you are tired and that's how Granite Bay starts making their points. Over all Granite Bay make their point using the whole game time while Mother Load score 19 points within 20miutes. Good rugby time from both teams.
Date: 02/13/2016
Humboldt State 15 – Sierra College 51
Referee: Bertolone, Cary
A beautiful day at Humboldt State University. Large crowd and the game was on with a kick off at 1;00. Sierra scored just one minute in to the contest.
Humboldt kicked for 3 at the 12 minute mark. Sierra outplayed Humboldt and took a lead of 15-8 and made it 27-8 by the half' even down a man. In the second half, both teams lost a man, but the game continued with Sierra being the better team and they won 51-15.Great day for rugby!
Date: 02/13/2016
Life West 50 – Sacramento Blackhawks 7
Referee: Hinkin, James
Another full day of rugby hosted by Life West as the genius of scheduling kept the ladies, D2 men and D1 men all together on the same day.   The pitch looked perfect with proper posts and lines so no worries there.   A referee tent and liaison added to the goal of making the game day experience as smooth and enjoyable as possible for players, fans and referees.
The D2 match was in full swing as I arrived so there was plenty of rugby going on to keep me occupied as the teams organized themselves. Life West were there early and in numbers even though they had rested a number of front line players for this fixture, the Blackhawks less so as players were arriving as late as 30 minutes prior to kickoff.   Everyone was up and ready to go as the clock struck 1:00 so we were off.   Life West was clearly the dominant side but the new additions were not gelling as well as the coaching staff had hoped. Flyhalf Orene Ai'I kept calm and directed play, as one would expect, and in spite of the valiant tackling from Sacramento the Gladiators put up 3 tries (one converted).   The first half could have featured a more damaging scoreline except for Operator Error.   Your humble referee accidentally reset his watch during the half and as a result managed to blow it up 7 minutes early.   Not my finest moment.
The second half was more of the same as Life West pounded away.   Each try seemed to be scored by a different player as the waves of attack flooded inexorably forward.   That is not to say that Sacramento just rolled over.   Indeed, no.   The Blackhawks had stretches of possession and attack where they seriously threatened the Life West line but could not get that final push over until late in the match when a period of pressure led to a ruck 10 meters out and scrum half Josh Toy, slotting in at first receiver, sold a dummy (and provided a receipt) to saunter in untouched under the posts.   The second half eclipsed the full 40 minutes so I blew full time. A well played match and both teams should be congratulated.
Date: 02/13/2016
Life West 2 42 – Sacramento Capitals 13
Referee: O'Neil, George
No report received
Date: 02/13/2016
Life West Women 103 – Sacramento Amazons 14
Referee: Bretz, Paul
Score line is not a misprint. At half time the score was 47-0. To the Amazon's credit they kept working and scored their 2 tries in the last 15 minutes of the game. This game had 8 penalties total. Lots of running, open rugby. Not a bad way to start off the morning.
Date: 02/13/2016
Marin 74 – SF Fog 12
Referee: Hammack, Robert
Late start due to a bad accident on the Richmond bridge that kept me and a fair number of players from arriving in a timely manner. The players were raring to go by kickoff and the first 15 minutes showed good endeavor by both sides including a well-worked, length of the field try by the Fog. However, Marin's fitness and game plan slowly took control of the game and earned them a steady stream of tries. The match never quite felt as lopsided as the final score might indicate as Fog continued to battle throughout and, if not for a few unlucky passes, may have been much closer. Play of the game goes to the very large Fog #8 – instead of trying to catch a very low pass from his fly half, he decided to boot the pass through on the fly and recover in the air 15 meters downfield which would eventually set up a Fog try several phases later.
Date: 02/13/2016
Modesto 33 – South Valley 3
Referee: Wilson, Giles
South Valley arrived with only 14 players. Despite this, they started with the early pressure and were stopped just short of the line. From this pressure they turned the ball over and Modesto went the length of the field to score.
In the tight, South Valley could hold their own (interestingly whether they used 7 or 8 in the scrum) but were undone by Modesto using pace and space in the backs. This pattern allowed Modesto to run in 5 first half tries (3 cons) with South Valley only able to reply with a penalty.
At half time, one of the South Valley players committed a dangerous tackle, earning a yellow card. During the break, several of their players who had picked up knocks, could not continue. They requested a forfeit and then 10s for the second half. This worked for a few minutes but with commitment flagging all around it was decided that a beer sounded better, rather than being half hearted and risking injury (I couldn't see any good coming out of some players going full speed and others just not into the contest).
The reported score was from the first half with the game being a South Valley forfeit.
Date: 02/13/2016
Napa 126 – Mendocino 7
Referee: MacDonald, Neil
In the irony of rugby match scheduling in Pelicanland, I found myself leaving Sonoma State in Santa Rosa, where I just refereed Cal Maritime, to drive over to Vallejo to referee another match, at Cal Maritime's field. Having overcome the dual challenges of north bay Saturday afternoon traffic and of finding parking on campus at Cal Maritime, I made it to the field to see Baracus B and Diablo B playing, refereed by a player in a yellow bib. Future pelican in the making methinks…
Having found the 12 Mendocino players, and Napa's phalanx, and dispensed with pre-match formalities, we were ready for the off. By kickoff time, Mendocino's numbers had swollen to 14, and after a short pause to find a ball with more air pressure than a marshmallow, we were off.
Off to my afternoon of sprint repeats, that is. Napa were unstoppable, scoring in the first minute, and racking up 24 points in the first 12 minutes. By half time, Napa had run in 11 tries and converted just over half of them, for a 69-0 lead. While great support running the hallmark of several scores, the pick of the first half tries came in the 32nd minute, when Napa #11 Tomasi Roba stepped or outpaced most of the Napa squad as he went the length of the field to score.
Napa began the second half as they had the first, scoring in the opening minutes. This time Mendocino struck back with a hard fought score of their own from close range before the flood gates opened, and Napa ran in another eight tries with #8 Taua Anitoni proving a ferociously potent attacker and a committed defender on the other side of the ball.   Mendocino dug in and played positive constructive rugby throughout, making hard yards through their pick and go game, but could not contain the array of attacking weapons Napa brought to the match.
I've refereed Napa twice in the last month or so, and almost needed a calculator both times. Napa is going to be handful in D3 this year.
Date: 02/13/2016
Reno 43 – SiliconValley 26
Referee: Bryant, Lee
No report received
Date: 02/13/2016
Riordan 5 – Jesuit 67
Referee: Bretz, Paul
Jesuit is a smaller team then I have seen in years but are an extremely intelligent group. Jesuit's plan against the much bigger team was to kick in their own 22 and make Riordan run. By 20 minutes into the game Riordan was gassed.
Date: 02/13/2016
San Jose 5 – Santa Rosa 34
Referee: Lew, Tim
Santa Rosa looked strong upfront controlling the scrums & mauls. San Jose looked good at times but also unorganized at times. The first half was fast and fun. Both teams competed well at the breakdown and each team got to run. In the second half, San Jose was unable to stop Santa Rosa outside and close to the try line. Good fun game.
Date: 02/13/2016
SFGG 38 – Fresno 17
Referee: Bernstein, Bruce
SFGG backs ran faster for the last 10 minutes to pull away from Fresno who gave Gate a fight with their scrum players. A few quicker subs for SFGG also helped as their scrum half (Travis Benson, my old teammate Bob Benson's son) in the 2nd half had a nice 60 meter score followed by a real quick wing icing the match at the end. Score was 12-7 in Gate's favor at half and remained close for the the next 20 minutes. Thanks to JC getting sick & Bryant switching reffing my women's match after he did a pretty high caliber HS match on the the adjacent field for this "assigment."
EDITOR'S NOTE: Many thanks must go to Pelicus Avoidus Whistle Dude and Pelicus Byrnest for improvising at the last minute to make sure this match was covered.   When you lose a referee at 10:30 Saturday morning there really aren't a lot of options and there was nobody else able to cover it.   Well done and JC owes the two of you a bottle of his signature wine.
Date: 02/13/2016
SFGG B 12 – Fresno B 12
Referee: Tuisavalalo, Rodney
It was a well contested match from the get go. Fresno drew first blood in the 3rd minute with tough hard running by their forwards. SFGG hit them right back with some dazzling back line play to even it up.   Just before the half both teams scored converted tries with some hard hitting and blistering runs. I'd be wary of these two teams going forward as they both seem to be coming along in development. Wouldn't be surprised if they cause an upset in the near future.
Date: 02/13/2016
SFGG PRP 36 – Denver PRP 7
Referee: Akroyd, Phil
Although the traffic to and from Treasure Island was horrendous, the rugby was pretty decent. The 1pm game was late in stating because OMBAC got stuck in traffic from the airport, so the 3pm game went off at 3:20pm. The low sun made for some difficult viewing angles, but we seemed to make it through without too many issues.
The game was pretty straight forward. SFGG held a lead and control for the entire game, and although Denver were only really out of it in the last ten minutes, they never really looked like they could overcome the "Rhinos".
Date: 02/13/2016
SFGG Women 39 – San Jose Women 0
Referee: Byrnes, Bryant
Two field no waiting rugby at SFGG's Treasure Island venue. (And where does it fit in with the TI Master Plan?)
After a jaunty, fast paced 9am high school match, I was most politely approached by one of the coaches for the next match-Fresno Men vs SFGG. Their ref had reported in sick; was I interested in a second match? My thought bubble said, "Surely you jest?", but the old war horse in me was momentarily-and insanely-tempted.
I was saved by Dude Bernstein, who proposed a switch-I take his women's game and he run with the bulls. So that is what we did. Gate's back line was nimble, nifty and simply unstoppable. The elder abuse ceased at half time; I was given a gold watch and sent home.
EDITOR'S NOTE: See previous EDITOR'S NOTE and feel free to send in a review of JC's wine   Trust me, I will publish it no matter what you say.
Date: 02/13/2016
Shasta Highlanders 23 – Napa 2 37
Referee: Devlin, Joe
No report received
Date: 02/13/2016
SJSU 24 – Fresno State 20
Referee: Hettermann, Matt
Hard fought match on a beautiful day. San Jose State showed just a bit more discipline, which was the difference in the match.
Date: 02/13/2016
SJSU B 12 – Fresno State B 29
Referee: Hettermann, Matt
Fresno State's fitness and numbers (several SJSU players were in for their second match) let them run away with it.
Date: 02/13/2016
Sonoma 7 – Cal Maritime 49
Referee: MacDonald, Neil
70 degrees and clear blue skies in Santa Rosa, on a good grass field. In February. Zanarini and Valerio, what *were* you two thinking when you opted for New England? 😉   Cal Maritime dominated their Sonoma State opponents, who look to have graduated a lot of players since last season, and are rebuilding with a lot of new talent finding their way through the laws of rugby, particularly as it pertains to the game being played on your feet.   Cal Maritime's nous was demonstrated early when they threw in to an attacking lineout on their hosts' 5m line, caught the ball, and set a maul, only to see the Sonoma State forwards part like the Red Sea. Without a word from the ref, the supporting players immediately disengaged without advancing, and the ball carrier ran through the gap to score. By half time, Cal Maritime were up 39-0 through a combination of stalwart forward play and devastating backs moves. With a raft of substitutions in the second half under NSCRO rules, the match was much more tightly contested, with Sonoma State holding their guests to two scores, before barreling over for a try and getting on the scoreboard in the 72nd minute.
Date: 02/13/2016
Stanford 25 – St. Mary's B 19
Referee: Lane, John
On a weekend where I was not going to be available Pete Smith dug out an early 10am Saturday start in Stanford which worked.
There was plenty of fog on 85 on the drive to Steuber Field but absolutely no issues with the field which was in excellent condition as usual.
In what was an open game throughout St Mary's started the strongest and had the upper hand overall for the first 15 minutes but handling errors stopped their momentum on a number of occasions. The turnovers conceded allowed Stanford to settle into the game progressively and on 18 minutes a turnover followed by some direct running and good hands gave them a 5-0 against the general run of play.
In their efforts to reverse this score St Mary's looked to up the pace. Unfortunately for them a long floated pass on their own 10m line was well read and intercepted by Stanford for a converted try leaving the score at 12-0 on 20 mins.
Stung by this St Mary's looked to up the pace even more. They looked to be in for a score at the right corner but unfortunately the winger dropped the ball over the line allowing Stanford to relieve the pressure with a 5m scrum. The pressure continued and eventually told with a try on the right well converted for 12-7.
St Mary's maintained the pressure for the next few minutes but it was Stanford who finished the final few minutes of the half stronger and scored an unconverted try right on 39 minutes.
Half time the home side led 17-7 which both sets of coaches seemed surprised by!
St Mary's started the second half with renewed effort and scored an excellent team try within 2 minutes and converted to close to 17-14.
They followed this with an unconverted score on 10 mins to take the lead 17-19.
Having take the lead the handling errors of the first half crept back into their game. Both sides had conceded offside penalties fairly frequently at the fringes of rucks in the first half and while Stanford reacted well to significantly reduce their count in the second half St Mary's continued to infringe in the second period.
These penalties stopped st Mary's momentum and Stanford managed a try on 16 mins to regain the lead 22-19. A further 3 points were added with a converted penalty on 23 mins. 25-19.
For the remainder of the game St Mary's chased the game and created a number of excellent opportunities but handling errors and improved defending from Stanford kept them out with an open game finishing in Stanford's favor 25-19.
Date: 02/13/2016
UCSC 5 – UC Davis 58
Referee: Moore, Stephen
One sided match dominated by UCD backline. All round a very disciplined match at the breakdown, clean offside lines with few infringement by both sides, long passages of play without whistle, made for a fast moving match at times. Good effort by UCSC but outclassed by a more experienced UCD side throughout the match.
Date: 02/13/2016
Univ Nevada Reno WR 12 – Humboldt State Univ WR 47
Referee: Fenaroli, Steven
What shaped up to be a great afternoon of rugby pitted Humboldt State Uni. versus University Nevada at Reno in a great women's match. The opening kickoff showed that the teams were evenly matched. Multiple phase ball was recycled with little to no gain. There were plenty of turnovers which meant a plethora of scrums; both teams would only be so excited. Humboldt took an early lead after a penalty in front of the posts, they tacked on 3. Another penalty doubled their score. From there it was a one sided game with Humboldt scoring 6 more tries. Reno valiantly fought back and scored 2 of their own.
Date: 02/13/2016
Univ San Francisco WR 46 – CSU Monterey Bay WR 5
Referee: Makino, Ren
A beautiful day at Negoesco Stadium (San Francisco, I brought warm clothes thinking it will be cold but it was warm). The game started 20 minutes later than scheduled at 1:20.
First 26 minutes was extremely competitive as they were tied 7 (USF) – 5 (CSUMB) at the break. 26 minutes into the half one of the CSUMB props had an ankle injury (she hurt BOTH her ankles and she has history of injuring her ankles) and she had to have EMS come to take her off the pitch. Unfortunately the process took around 30 minutes and the two teams had to be off the pitch by 3pm so the first half was called early and they played a 45min.
The second half started at 2:15. USF started to shine during this half and they were faster than CSUMB. CSUMB had many missed tackles which resulted in multiple tries. A USF player high tackled and received a yellow within the first two minutes of the half. Both teams did not seem to understand the concept of coming through the gate and releasing the tackler after a tackle has been made.
Overall great playing from both teams and I really enjoyed my day at San Francisco on and off the pitch (I had a really good $40 dinner after the game)
This Week's Photo
With Life West announcing g a Polynesian theme to their match weekend, Pelicus Pedem Referre decided to turn up in his Polynesian #1s.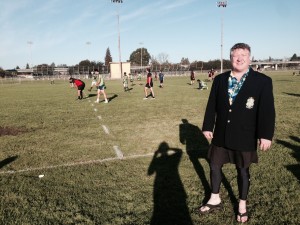 Hail, Pelicus!
For the Senate
Pelicus Pedem Referre