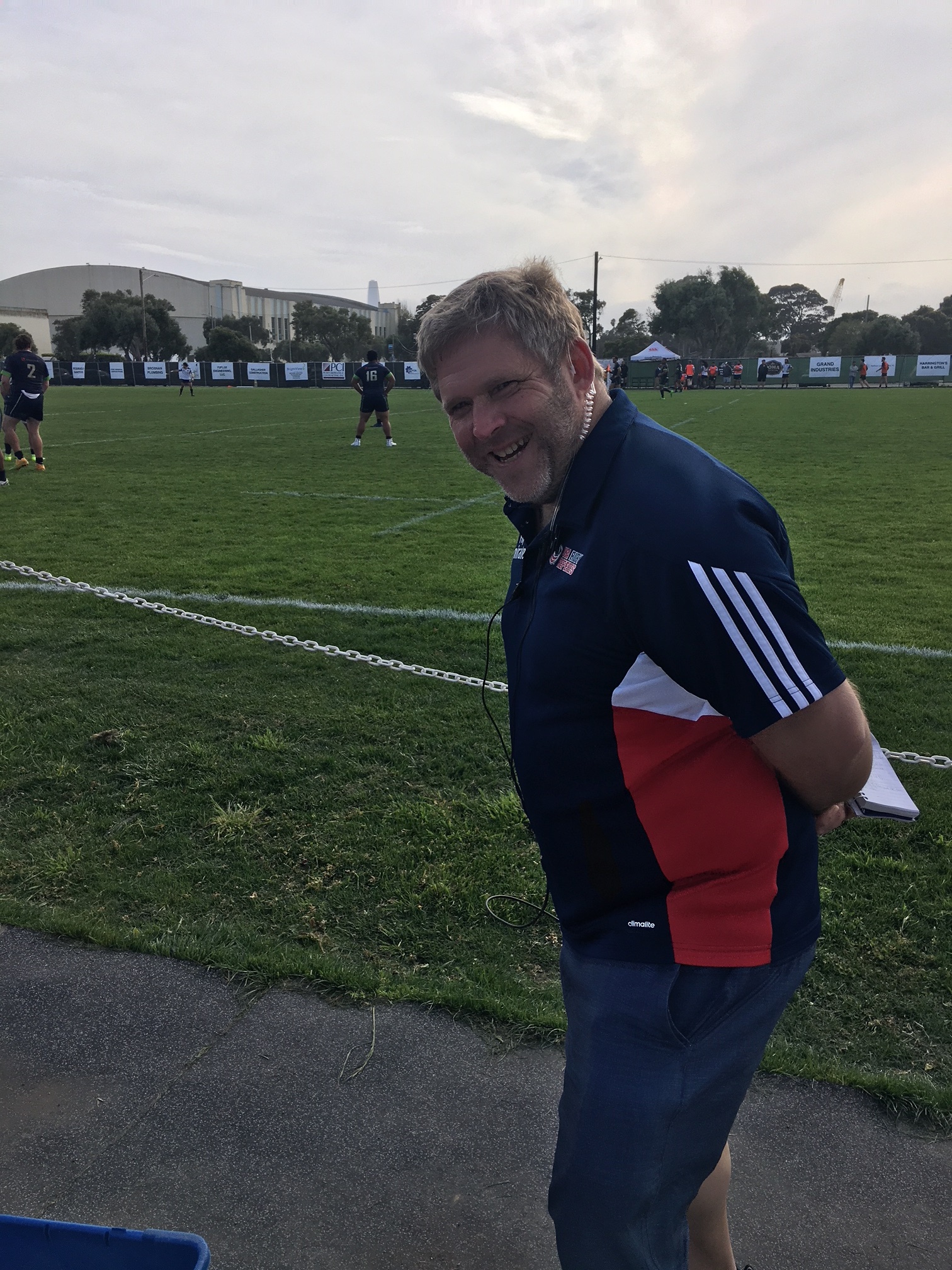 HAIL PELICUS!
Wrap Battle
April has arrived and that means that the season is wrapping up here in Pelicanland. Playoffs have starting for Men's D3, while the collegiate men and women get into it this weekend. Division 2 has most of their playoff teams set with only one game left to determine teams and seeds. Vacaville is set as the #3 seed and the final D2 Wrap Battle pits Sacramento Blackhawks against Life West with the Blackhawks needing a bonus point win to take over first place from San Jose, while Life West needs a bonus point win to take the #4 seed from SFGG. Both teams have it all to play for.
Of course, for non-league friendly fun there is Cal at St Marys. A nice little friendly game between neighbors.
Epic Wrap Battle In The State Capital
As mentioned above, a highly entertaining match is set for Saturday in Sacramento and for that large percentage of rugby enthusiasts who are also grammar enthusiasts (and really, who isn't?) this would be a chance to visit the capitol while in the capital. A capital idea, to be sure, because then one could discuss if "capital" and/or "capitol" requires a capital letter and one could even wager some capital, because this would be of capital interest to us rugby grammarians. This is of great interest because poor grammar should be a capital crime. Just kidding! We don't condone capital punishment for grammatical errors here at HP!
As a side note, I tried writing an actual rap for this Wrap Battle and, even when looking at it as satire, it was horribly, unfathomably, painfully bad:
Rugby Ballers!
Grammar Hollas!
Epic Wrap Battle!
In The State Capital!
All readers will be relieved to know that this marks the beginning and the end of Hail Pelicus' rap career.
Just One Thing, Again
We have reached the point of the season where playoff games will be scheduled and they are often listed as "Pacific Northwest #2 v Northern California #1" or, on a Sunday, "Winner Match 4 v Winner Match 7". Please make sure to include the team names in your writeup and a clue as to who scored what so I can record them properly.
Disciplinary Action Reporting – Process For Reporting Incidents
The various competitions all have their own disciplinary chairs and this will make it difficult to centralize the communication and data. To help Scott Wood has developed a form that will centralize the process, regardless of the competition. The link to the discipline form is https://docs.google.com/forms/d/1mmUNg11uVOSkIsUtHifSqQzalhWbwohk_J6AmPyrucQ/viewform
1. Copy the link and have it available on your smartphone. If you have an iPhone add the link to your home screen.
2. When needed fill it out and click submit. The discipline chair of the competition you refereed will receive a notification about the incident.
3. He/she may contact you latter for more details.
4. If you have any questions as to how to use the app please refer to the following video: https://www.youtube.com/watch?v=_Uz0_gTaOnY
On To The Game Reports!
(Some catch up reporting from long distance correspondent Pelicus Ex Jerseius.)
Date: 03/18/2018
Chambersburg 20 – West Carroll Girls 39
Referee: Stephen Valerio
Location: Union Bridge, MD
A friendly match, with 2 fiery, if raw sides. The first half was evenly match, with a lot of pick and go rugby. Usually an isolated player rather than in a unit. However, when either side spun it wide the remaining backs found plenty of space and all 4 tries came from out wide with the Chambersburg 14 ripping the ball out of her opposite numbers hands and going the other way to give Chambersburg an early 10-0 lead. West Carroll picked up 2 tries to end the half up 12-10.
In the second half, West Carroll's conditioning gave them a decided advantage and they were able to score several breakaway tries to coast to the win. West Carroll's run was interrupted by an unusual play when one of their centers broke through on a break away. However, the player grounded the ball in the field of play. The ball went straight down, so no knock. So I stood there. Finally, the Chambersburg players noticed I was standing in front of their goal line, with the ball at my feet, and I was just waiting. So they picked it up and play continued. Always something new.
Date: 03/18/2018
Chambersburg Bs 15 – West Carroll Bs 0
Referee: Stephen Valerio
Location: Union Bridge, MD
Chambersburg's B-side played with more cohesion than West Carroll, punched over an early try and then spent the rest of the match with a decided territorial advantage. Eventually that led to further scores while West Carroll never seriously threatened the Chambersburg line.
Date: 03/24/2018
NOVA D2 43 – Mary Washington University 37
Referee: Stephen Valerio
Location: Fredericksburg, VA
The system stated the match was at NOVA's pitch, maybe 45 minutes from my house. Turns out the match was at Mary Washington, an hour and half from my house. Longer, but I have seen worse (road trips out to Montauk were never fun). However, there was a march in DC, and traffic was a mess and it took me over 2 and half hours to get to the match. I love showing up 20 minutes before kick-off.
Mary Washington won the Chesapeake Conference going away in the autumn and was looking for some sterner competition. NOVA's men's side gave it to them. The first half was a thrilling back and forth affair. Mary Washington's put across 4 tries, to NOVA's three, but Mary Washington's difficulty in going for posts left them with a mere 1-point lead at the break.
The second half started strongly for NOVA as they appeared fitter and pulled out to a 43-25 lead. However, 2 yellow cards for dangerous tackles left them down 2 men for 6 minutes and Mary Washington came roaring back in the last 10-minutes, even eschewing a conversion attempt to keep the ball in play. However, they ran out of time in a thrilling match.
(And now we return you to the present week)
Date: 03/31/2018
South Shore Anchors 19 – Providence RFC 20
Referee: Tom Zanarini
Location: Randolph, MA
As I write this on Monday morning, looking out the window at 5 inches of snow, it seems as though my match on Saturday was a whole season ago. A beautiful, sunny 50+ degree day awaited a fun rugby derby between South Shore and Providence.
Teams were evenly matched in skill and pace, but Providence ran out with a more aggressive style that garnered them a 12-0 lead at halftime. Tackling was an issue, as was playing the ball in the ruck. Teams were put on notice. Unfortunately notice had to be served with a yellow to Providence for dangerous tackle. Both teams adjusted, but more so South Shore who outscored Providence 19-8 in the second half, with a converted try at full time. Unfortunately one missed conversion kick earlier in the second half kept them one point down at fulltime.
I'm looking forward to sending my next 5 match reports from Gloucester, England while on the New England Rugby Referee Society's 20th Anniversary exchange with the Gloucestershire & District Rugby Referee Society.
Date: 03/31/2018
Colusa County 64 – Google 24
Referee: Lee Bryant
Great playoff match! Google showed up without any subs and it became a long, hot match for both teams. Hard hitting game from both sides that wasn't a true run away until the second half. Colusa's outside speed was the ultimate difference in the match.
Date: 03/31/2018
Life West Gladiatrix B 53 – Berkeley All Blues B 0
Referee: John Pohlman
Life West woman's B side hosted Old Blues at Sunset Park in Hayward this past week. Like the last game I did for the Life West woman a few weeks ago, they played a number of the D1 players. Life West won the D1 national championships last year and had hoped to move into the premier league but have not been accepted as of yet
This has led to no one wanting to play them, both locally and nationally. Stuck with no games for the first side players… they play some in the D2 which leads to a forfeit. But if USA rugby won't allow you to move to the top league and no one will schedule games with you… what can you do?
Old Blue had some talented players and gave Life West a good game, but they were simply overmatched this day.
Date: 03/31/2018
Redwood Empire RFC 27 – San Joaquin-Stanislaus RFC 14
Referee: Jessica Turner
It was a nice and sunny day yesterday, and I was looking forward to going back into the redwoods to do another match. I got to the field a little late due to traffic from a couple accidents along the way, but there was still plenty of time to get sorted. We kicked off the match, and not soon after the penalties starting adding up, in particular around the breakdowns. Very soon after that, the disputing of my every call was standard. There was so much lack of discipline in the first half, with players from the Redwood team arguing with me over calls and all sorts of dissent surrounding the entire game without a moment to get away from it. The captain was not doing well with managing this, so I did it for him. After 40 minutes, many penalties and 3 yellow cards later, I finally made my point. For me this greatly detracted from the quality of rugby being played because they were not trying to play at all. The Stanislaus-San Joaquin team was able to cash in a couple penalty kicks off their opposition's errors, including a very intelligent piece of play from their #10. They had a penalty advantage about 22m just to the right of the sticks, and he scored a drop goal in open play!! Absolutely brilliant rugby, knowing that if he missed they would get the call. I really would like to see more teams "gamble" on penalty advantage like that, since I don't see it often here. Anyways, both teams did have a bit of a grinder, with lots of contact but some nice possession in the mix. Even though they were down to 13 players for a lot of time, they still managed to punch a try in.
Halftime score was Redwood 5-SSJ 9.
I was praying for a much better second half because I was quite frustrated with having to be such a disciplinarian, but they literally had given me no choice but to do so. I'm proof that prayers work people, because low and behold the second half looked a lot like this thing called rugby! The second half was such a treat to referee! Finally, nobody trash talking me and people are now focused on playing footy…even though they still had 1 man in the bin, once Redwood got it together the rugby was so nice! Great skill execution and field vision, with lots of individual effort and brilliance to score 4 tries over the course of the half. SSJ just couldn't contain the space, and the Redwood team just found every single space possible to utilize. Even still, much credit to SSJ for playing hard the entire match. They never once gave up, and had much individual brilliance on their own, and did string together some beautiful phases with really nice plays, they just couldn't maintain the pressure to finish those as tries. But, with that fight all the way to the end, SSJ got the final say with a try with no time left on the clock, but it simply wasn't enough at that point for the win. Thank you to SSJ for being a respectful side to officiate, and thank you to Redwood for figuring it out and ending the match on a good note.
Date: 03/31/2018
SFGG Women 17 – Sacramento Amazons 10
Referee: Preston Gordon
This was a great game on a beautiful morning. The freshly-mowed and marked pitch was in pristine condition, with plenty of dew still on the grass from the overnight fog. My feet were soaked within a couple of minutes, but the ground felt great.
Sacramento Amazons and SFGG played an extremely well-balanced and close game, with both sides putting on an impressive display of technical skills even with a wet and slippery ball. The Amazons pack was stronger, and the SFGG backs were faster. Sacramento scored the first try at 15′ before SFGG could answer at 27′. SFGG then added another try at 35′ to lead 10-5 at halftime.
The second half was a very similar affair. Amazons scored first, at 12′, to tie the match at 10-10. The score remained that way for about another 20 minutes, with just a few opportunities missed by each side. In the 67th minute, I sent an Amazons player to the sin bin for a high tackle. SFGG capitalized on this 4 minutes later, at 71′, and scored a converted try. There was no further scoring in the match, even though SFGG had a 2-player advantage for a couple of minutes due to another Amazons yellow card for a high tackle. Amazons were missing at least one player for the last 13 minutes of the match, but this didn't seem to make a lot of difference in their attack or defense other than the one try they conceded.
There was one sideline issue late in the game, but all in all, this was a great opener to a full day of rugby on Treasure Island.
Date: 03/31/2018
Chico State 66 – Stanford 19
Referee: Cary Bertolone
A rather warm day, about 85 degrees, in Chico. Chico scored first at the two minute mark. Their number 8 and captain, Matt, crashed through for a second try. Stanford made an interception and ran it almost all the way back, allowing them to score a try at 18 minutes and then tying up the score 12-12 at 26 minutes. Chico scored 3 points and then two more trys to take a 27-12 lead at the half. In the second half, Chico scored immediately with great passing and crashing back play. Stanford intercepted and ran a try back from 80 yards out, making it 32-19, but it was all Chico after that, as they scored 5 more trys. Strong upfield running, solid team, solid effort. Thank you Scott Wood and Jeff Richmond for AR ing and James Fonda for taking care of #4.
Date: 03/31/2018
Univ Nevada Reno 36 – UC Santa Cruz 29
Referee: Chris Tucker
Arrived early with Pelicus Radix Lectii as he was ARing the Chico domination of Stanford, so I got to chill out in the warm sunshine and watch a very organized Chico defensive unit strut their stuff while I prepared for my own game.
After I blew the whistle to start, I was glad that I had had the time to prepare, warm up and get into the right mental frame, because this game went off with a bang. Both teams heaved into each other, ran hard, kicked deep, moved the ball around well and generally went for it. Everything was well controlled, with all aggression channeled as the Law intended. In fact there were more acts of violence committed on team-mates (2 — a dropped player from the lineout, and a boot to the stomach) than opponents (1 — charging into the ruck).
As Reno scored their third try after 16 minutes to take the score to 15-5 (the place kicking was hopeless for 20 minutes, then near-perfect for 60), my watch chimed the first mile completed. On pace for 5! Santa Cruz were in danger of getting overrun, but they settled down, and their position game began to pay dividends. 2 offside errors by the UNR wings put real pressure on the rest of their side, and SC capitalized to bring the score back level at 15 apiece at the half. One costly moment for SC came when the left wing took the ball into UNR's in-goal in the corner, only to make a hash of touching it down. I looked at a perfectly-positioned Jeff Richmond, thinking "did he just step out??", and Jeff gave no sign, except to slowly walk backwards away from the pitch. This confirmed my suspicion, and Jeff soon gave the detailed account. 22.
At the end of the half, I was at 2.25 miles — we had slowed down to a more normal pace.
The second half began as the first ended, but the energy soon sagged. We began to scrum more and more as errors crept into both sides — the score kept ticking over, however, and was tied up at 22 with 20 minutes to go, before UNR got a commanding lead with 2 solid tries in 4 minutes. Didn't stop SC from giving it their all, gaining one back with 10 minutes remaining, but time eventually ran out on them after a frenetic attempt to score.
1.96 miles in the second half, reflecting the many, many scrums…
Thoroughly enjoyable game, played with skill and tenacity by both sides. A privilege to participate!
This Week's Photo
2017 USA Rugby Referee Coach Of The Year Lee Johnson hard at work or hardly working? Depends on who you talk to.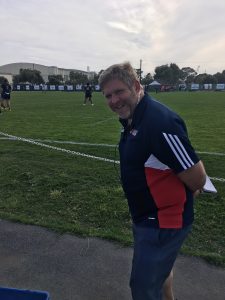 Hail, Pelicus!
For the Senate
Pelicus Pedem Referre