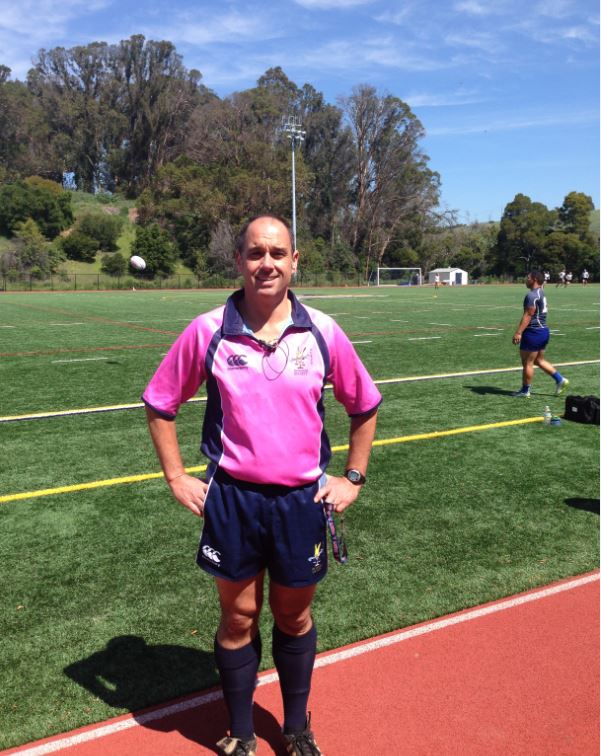 HAIL PELICUS!
Opening Weak
There have been a lot of sporting distractions this week and not all of them have been rugby related.   This is, after all, Opening Week for baseball during which we had the NCAA basketball final (what an ending!) as well as the continued chase for the NBA single season win record by our own Golden State Warriors.   Even the San Jose Sharks were getting into the fun as they clinched a playoff berth and were tuning up for the second season.
It all came to a head on Thursday with the San Francisco Giants home opener against the Hated Dodgers (a nice win for the good guys, thank you very much), the Warriors taking on their closest competitor the San Antonio Spurs (another nice win for the good guys that secured the #1 overall playoff seed), the Sharks losing a heartbreaker by giving up the winning goal with 10 seconds remaining and finally, the start of the Masters.   Waking up the next morning we have Friday on our mind with the start of the Hong Kong Sevens, the jewel of the World Sevens Series.  (See what I did there?)   The Great Ebner Experiment seems to have started and we here at Hail Pelicus will be paying very close attention.
All in all the staff here at Hail Pelicus really didn't have much time to devote to this edition so there aren't the usual jokes, witticisms and in depth analysis that is the usual fare.  We hope the readers forgive us for opening weak during Opening Week.   That is all, and don't forget your towel.
e-Holder
There is a new book about Rob Holder that would interest most Pelicans called Crossing the 101.  It first came to my attention when reading an interview with Mr Holder on thisisamericanrugby.com .  Rob spent time in Pelicanland as the Head Coach at Stanford before moving on to coach the newly formed EPA club.   His son is currently representing the US in 7s and I fully expect to see him performing in Rio.   But don't just take my word for it, here is a review for you:
CROSSING THE 101
Mike Kils
Published by smashwords.com
Reviewed by Bruce Carter
There is a new e-book out about Rob Holder, former coach at Stanford and East Palo Alto. It is written by Mike Kils and is available from smashwords.com. Readers in Pelicanland will definitely enjoy the time spent with it.
If you've been a member of this the Northern California rugby community over the past dozen years, you will find that your life intersects with this story in many cases, and intertwines with it in many others.
First things first: the author shows excellent research skills and impeccable taste in reference material: referee match reports are quoted from Hail, Pelicus! on two occasions, from Pete Smith and Chris Labozetta. Keep writing those reports: you never know how you might become immortalized!
There have been a number of down-and-outers-find-their-way-in-rugby stories and movies in recent years. This is no surprise. We've always believed that rugby appeals to and brings out the best in many people. This book – a quick read, about 70 pages – shows exactly how that magic works, using a cast of characters that most NorCal referees will know well.
This is the story of how Rob Holder formed the East Palo Alto Razorbacks club to help keep graduates of the EPA high school program out of trouble.   Rob had recently been the paid coach of the Stanford team, doing this out of love, both rugby love and Christian love, as becomes clear. The team went from non-existence to national D2 champions in its third season (2009).
My association with Rob Holder goes back to 1992, when he was a couple of years out of West Point, playing for the Combined Services. I was a referee, in the Army, who toured with the team. He was the proverbial nicest guy you'd ever meet, and was later included in the player pool for the 1999 Rugby World Cup.
Many of our readers will have first become aware of who Rob was and what he could do in 2003, when his US Air Force Academy team stunned Cal in the national semi-final at Stanford, and went on to win the championship.
Here's another point of contact for our readers: Marc Ward, one of Rob's players, was memorably injured in the Cal game making a game-changing tackle. His injuries meant that he couldn't pass a flight physical, which precluded him from continuing at the academy. So he became a Pelican Ref, enrolled at Stanford, and helped as a volunteer with the team until his full capacities returned and he was able to resume his Air Force career.
As an immediate result of the victory over Cal, Rob received an offer to become the full-time coach and director of rugby at Stanford.
Some of you will remember his eager young son Will, a ball boy in those early days, and will have derived great pleasure seeing this same young man in the side that beat New Zealand in Dubai, scoring two tries against the sevens All Blacks.
Another 'son' of Rob's, a wayward soul that Rob later helped give some rugby direction to, was the flyhalf on EPA's championship team, Folau Niua. Folau and Will Holder will probably be together in Rio this summer playing on the biggest stage possible.
Rob's story of course intersects with Rich May, a policeman killed in the line of duty in EPA, the stepson of Frank Merrill. (Some may not be surprised to learn that Frank's one quote is NSFW.) Rob, attending seminary at the time, provided ministerial support to the family during the ordeal and performed his first official service, a funeral, in front of many thousands of mourners at the arena where the Sharks play.
The rugby as described is exciting, and only occasionally devolves to the execrable how-rugby-is-like-other-sports mode of explanation. Many of us know these players, and their opponents, and when the game is afoot you can see the players and the action in your mind, in memory yet green.
Tongan culture plays a major role, with former EPA high school coach Dave Tupou serving as the link between Rob's two worlds. The critical role of the player's wives in furthering their success is outlined, wherein we learn about fund-raising on the east side of highway 101. Note that it is somewhat different from the venture capital method epitomized on Sand Hill Road west of 101.
Others making appearances include Tony Redmond, an Irish Test referee who lived in Palo Alto and refereed for us for a couple of seasons, and Paul Berman. Paul is not named, but he will recall the match described that he was meant to referee in EPA until it was canceled due to nearby gunfire. He went from there back to Stanford, where he had been running touch for a Pacific Coast high school tournament, making Rob's journey in reverse: back to the safer side of the highway.
I wrote and edited Hail, Pelicus! for fourteen years as an on-going love letter to the sport that has given so much to me. Rob Holder's story is also a love story.
If you are reading this missive, you share that love.
If you are a part of Northern California rugby, if you have ever had to overcome adversity, if you have experienced the selfless pleasure of helping a teammate achieve more than was thought possible, if you have delayed gratification for hard work in the here and now, and if you have competed and succeeded in an arena where you previously did not belong, then this is your story, too.
https://www.smashwords.com/books/view/624839
A Fond Farewell
As you can tell from the above book review, Pelicus Scriptoris still keeps a keen eye on all things rugby, especially when it comes to Northern California Rugby.    Sadly, he has decided to move on.
On Friday April 29th all of Pelicanland will be celebrating Bruce Carter's retirement and departure from the Bay area as Bruce will be migrating to Arizona.  Make plans now to celebrate Bruce's incredible career as an official, President of the Northern California Rugby Referees Society, and his most impactful legacy, teacher.  Bruce's impact on refereeing has been immense and we have all been fortunate to have been the recipient of his mentorship for so many years.  Click the link here to find out more details about the event and to choose your entree options.
Laying Down Some Knowledge
Our April Society meeting is coming up and on that note, a message from our Noble Leader, Pelicus Iudex Pennipes:
We are moving into playoff mode for the 2016 season and have a full slate of games through April.  Please note your availability in Assignr as far in advance as possible.
Our last society meeting for the 2016 season is set for April 13th, 7:00 PM, at the SFGG clubhouse on Treasure Island.  Our presenters will be:
Matt Hetterman: officiating the scrums
Tim Lew:  7's officiating
Food will be provided.  We are asking those of you who have officiated matches that have resulted in ties to bring refreshments.  It's better to provide a six pack now rather than buy at some more expensive event latter.  Please note we will be reviewing the match scores and taking notes
Eternal Pelicus At The Meeting
More from Pelicus Iudex Pennipes:
Immediately following the presentation Pelicus Pedem Referre (James Hinkin) will be facilitating the naming of our new officials.  To my knowledge we have several officials that are new to our flock and have yet to receive their Pelican names.  While this might be an oversight it is none the less unacceptable.  Those officials that have yet to claim their rightful nomenclature may find themselves with names they might not appreciate: Pelicus Littlus Dickus is just one example.  Newbies, please visit the website https://pelicanrefs.com/about/eternal-pelicus/, review the criteria, and present your pelicus name to the society's scribe, James Hinkin, prior to the society meeting.  If you don't the flock will be forced to name you
For those who would like to suggest a Pelican Name for themselves or for others please send an email to hailpelicus@pelicanrefs.com.    Please verify via the Eternal Pelicus link above that the individual in question doesn't already have a Pelican Name or that the Pelican Name is not already in use.   If you fail to do this then expect reprecussions.
Final Meeting Notes – Kit
If you have not received your kit for this year please show up to the meeting or make arrangements.   This is by far the easiest way to get your kit as logistically it is difficult to get them out to more remote Pelicans and may take some time.
Any kit left over at the end of the season will be made into a quilt to keep my toes warm next winter.
Ask A Pelican
Yes, it's time for this week's installment of "Ask A Pelican", the widely loved Q and A session with Hail Pelicus.   This week's question comes from Snarky McSmarmyface, of The Internet who asks:
"A couple of weeks back in the 'Springing Forward' edition of Hail Pelicus you wrote a section entitled 'The Great "If Only" Argument Of American Rugby'.   You conjectured that Nate Ebner had very little chance at making the US team and yet here he is in Hong Kong.   Are you ready to admit you were wrong?"
Thank you for your question, Mr McSmarmyface and thank you for paying such close attention to our noble publication.   Your answer is No, I am not ready to admit being wrong because what I actually said was his chances of making the Olympic team were "maybe, trending to doubtful" and yes, he has made the USA Eagles after impressing in the Hong Kong 10s so well done him – that is step 1.   I also said that he "absolutely" deserves a look and I think this is it.  If Mike Friday is to evaluate how Ebner will perform at the Olympics he needs to see him in a competitive, international environment and there are not too many of those left.    He, more than any other player in the squad, is currently on trial for the Olympics.   He has much to do to catch up with everyone else.
Grab hold of this opportunity, Nate, as I believe this is your one chance to grab the brass ring – or rather the interlocking rings.
Disciplinary Action Reporting – Process For Reporting Incidents
The various competitions all have their own disciplinary chairs and this will make it difficult to centralize the communication and data.  To help Scott Wood has developed a form that will centralize the process, regardless of the competition.  The link to the discipline form is https://docs.google.com/forms/d/1mmUNg11uVOSkIsUtHifSqQzalhWbwohk_J6AmPyrucQ/viewform
Copy the link and have it available on your smartphone.  If you have an Iphone add the link to your home screen.
When needed fill it out and click submit.  The discipline chair of the competition you refereed will receive a notification about the incident.
He/she may contact you latter for more details.
If you have any questions as to how to use the app please refer to the the following video: https://www.youtube.com/watch?v=_Uz0_gTaOnY
On To The Game Reports!
Date: 03/30/2016
Stanford 5 – California 121
Referee: Lane, John
A beautiful sunny evening for a game and with the recent decent rainfall Steuber Field is in exceptional condition.
Pre-game coach expectations was for a Cal win and that is what transpired but Stanford were there to play and despite the ending score line they competed for the full 80 minutes.
From the kickoff Cal pushed the pace of the game and punished every defensive error.  Converted tries on 2, 4, 6 and 10 minutes say a 0-28 lead and as such the result was never in doubt.  In this period Stanford were defensively passive with soft line speed allowing Cal the space to build momentum and gaps appeared easily.
Some behind the posts encouragement from the Stanford captain saw some adjustment to this and the stream of one way traffic was slowed.  Stanford started to get some ball and build a few phases at times but Cal were equally strong in defense and turned over possession frequently. 3 more tries on 17, 22 and 28 minutes with one converted stretched the lead to 0-45.
From this last restart Stanford had their best 5 minutes of the half with good line speed halting Cal and winning a turnover.  They maintained possession for multiple phases aided by an off the feet penalty by Cal to keep the pressure on.  After a string of 6 phases the Stanford 9 took quick ball from a breakdown and broke to the open side and dummied through a gap.  With support following him there was a scoring opportunity but under pressure from the Cal 15 his pass went forward.  To make things worse Cal gathered possession and making full use of the advantage moved the ball quickly to the wings and rounded the defense to score (converted) from 80 yards!!  One more converted try followed to leave the half time score at 0-59.
Cal started the second half with two converted tries but Stanford were defending stronger and more phases were required for Cal to break through – 7 minutes in the score was 0-73.
Stanford then raised their biggest cheer of the evening on 11 minutes.  Building some pressure and winning penalties at break downs they kicked for the corner and had a lineout on the 5m line.  Having thrown all lineouts high to 2 or 4 so far a quick through low to the front jumper was fed to his supporting prop who barreled his way over right in the corner.  Unconverted for 5-73 on 11 mins.  Lack of concentration after the score saw Cal score again from the restart 5-80.
But lifted by the score and encouraged by their coaching staff to maintain their systems Stanford kept playing positively and defended with commitment.  The stronger Cal team continued to generate the line breaks and scored 4 tries on 19, 23, 28 and 31 minutes.  These all went unconverted as the scores were happening further out due to the Stanford defensive effort.  5-93 with 9 mins remaining.
By this stage many substitutes were on the field and Stanford were tiring a bit leading to 3 rapid fire converted tries in the final 6 minutes.  Final score 5-121.
While the scoreline was extreme the committed efforts of both teams throughout made this an enjoyable game to ref and certainly covered my mid-week sprint session requirements!!!
Date: 04/02/2016
San Jose Women 5 – All Blues 39
Referee: Freitas, Larry
I drove over infamous Highway 17 from Santa Cruz to East San Jose for this match at Independence High School.  By the time I arrived the coastal marine layer had burned off, and the air had warmed into the low 60's an hour before for the 11:00 start an hour later, meaning it would be warmer by kickoff.  San Jose had a full team, and one extra player, while the All Blues had some 17 players suited up for this match, along with supporters who looked as if they might play in their fall league team.  The grass on the pitch was thick and needed mowing, and running around on it to warm up, I imagined that the grass might slow down some of the faster runners; just as well the grass was thick, because the ground beneath seemed quite hard.  And kudos to the Seahawks for getting this pitch this year to play, a great improvement!
The All Blues kicked off to the Seahawks with the sun in their faces for the first half.  The first ten minutes of the match were very evenly played.  The Seahawk women had most of the possession, actually, but couldn't spread the ball to their backs without gaining much ground.  The All Blues scored the first try of the match 13 minutes in, when after a semi-deep cross kick from their fly half, from their left hand side of the field at halfway, the ball bounced around just outside San Jose's 22, and ended up in the hands of a Berkeley Back, and one pass later the right wing touched down quite far out to the right of the posts, for five points that went unconverted.  Nine minutes later the All Blues would score again, making the score 10-nil.  San Jose was putting up a good fight, but overall it seemed the All Blues just had a bit more pace and fitness and were starting to wear down the Seahawk defense.  At 30 minutes the All Blues won a tight head in San Jose's quarter, and the All Blues ran in another try.  At the half the score was 15-0 in favor of the visitors.   The players who impressed with their play were the All Blues' substitute hooker, who came in after the first ten minutes as a substitute, Skyfire Knight, and their number 8, Sydney Provan, who was to score three tries in this match.  The Seahawks tight head prop, Angie Tukulua, had the opportunity to rumble with the ball a number of times in this match, breaking tackles, and shedding tacklers.  Though neither Tukulua or Knight would score tries, their ball running skills created opportunities for scoring.
The All Blues would score a try after the first ten minutes of the second half.  Again, it was unconverted, and brought the score to 20 points to none.  It was Tukulua who set up the Seahawks one and only try of the match, when after one of her runs down the left-hand side of the pitch, she was brought to the ground just meters from the All Blues' line.  Scrum half Allison Mendonsa (no 'c' with the tail on American keyboards) picked up the ball from the ensuing ruck, and darted under a tackle to place the ball just on the front edge of the goal line for the only Seahawk try of the match.  The kick failed, and the score stood 20-5 in Berkeley's favor after 59 minutes of play.   Soon afterwards Tukulua would have another long run after taking the ball away from an All Blues player who was stood up in a tackle, only to be tackled herself from behind by Sophie Coysh, one of the All Blues' flankers, who has been playing rugby for a few months, and had been playing a very good game.  Unfortunately the tackle was dangerous, as she had her arms wrapped around the Seahawk player's neck.  I blew for the penalty and made the quick decision, that since each team had at least one high tackle penalty each, a yellow card was warranted.   Down one player, the All Blues did fashion another try at 64 minutes.  San Jose managed to shift the ball a bit with the extra player advantage, but couldn't cross the All Blues line, though they did manage to penetrate into their territory.  Alena Porte, playing out of position at fly half, started making some breaks from her position instead of passing on the ball, taking advantage of gaps that opened up.  With the All Blues back to full strength, and the air getting warmer and warmer, there was another try scored at 71 minutes, when I awarded the All Blues with a penalty after a Seahawk infringement at a tackle, just outside the Seahawk 22.  Number 8 Sydney Provan took the ball, saw that the Seahawks were collectively slow to retreat, tapped it and took off with it for the goal line and the goal posts to her left, with no one near enough to make a tackle; that was Provan's third try of the match, and I mentioned to her she had the hat trick!  Finally, with the ball having been placed right between the posts, the All Blues kicker put one over the cross bar for a 32-5 lead.  The All Blues weren't finished yet, and scored one more converted try at 80 minutes.
This was a fun game to referee, as it was a very competitive match overall.  Snacks and beverages awaited players and referee on the touchline; thanks to Laura Pelton for providing that.  I want to also mention that two women's college coaches were on the pitch for the Seahawks: Alena Porte, who coached CSUMB the past two seasons, and Christine Cox, who played outside center in today's match, of Santa Clara University.   Long time Seahawk supporter Larry Oakenfell was present, along with Seahawk/Silverhawk and Bald Eagle former players Karl Laucher, and Rich Golino.  Players from both squads stuck around for the food and drink and conversation, mostly about rugby, as EPA and the Seahawk men took to the field.
Date: 04/02/2016
San Jose 19 – EPA Razorbacks 41
Referee: Lane, John
Another new field for me at Independence High School and the contrast of this meadow to the pool table surface at Steuber Field midweek was stark.  For anyone with Ireland/Munster connections this was like playing/refing in Abbeyfeale, Bruff, NewcastleWest in the 80's (without the 70 degree sunshine!!)
EPA played with the slight slope in the first half.  Both sides looked to move the ball at all times with kicking to a minimum.  Neither side was shy with carries into contact and then moving wide when the opportunity was on.  EPA were the stronger overall in the first half and scored at regular intervals when they managed multi-phases and stretched the defense – Tries on 7, 12 (converted), 22, 32 and 37 had the half time score at 0-27.  Seahawks had some opportunities in the first half but did not close them out.  With the heat it was also clear that both teams needed the half time break.
The first 20 minutes of the second half produced no scores but gradually the Seahawks were gaining field position with the majority of play in the EPA half.  The heat was impacting both sides with both sets of forwards taking their time to make it to scrum and line-out restarts!.
Seahawks did score on 21 mins but missed the conversion for 5-27.  They maintained pressure for the next few minutes but with some fresh legs on the field EPA scored a break out try from their own 22m and converted on 26 minutes for 5-34.  The Seahawks failed to close down from the kickoff and EPA recycled through a few phases to score immediately and again converted for 5-41 on 28 mins.
The Seahawks responded well to this score and on 32 minutes scored the best worked try of the match.  A couple of quick recycles had play between the EPA 22 and 10 m line, 10 m from touch.  The scrum half drew the near cover with a break to the open side, fed the crossing center with a pop ball,  this created hesitation in the defense and the Seahawks No. 8 hit the line at speed taking the reverse offload was straight through the cover.  With 30 metres to go he then stood up the fullback and managed to swerve past and despite a last ditch cover tackle reached the line for the score.  Converted.  12-41 32 minutes.
With lots of tired bodies on the field at this stage both sides still put in great effort for the last 8 minutes.  Seahawks continued to look for another score and after a couple of missed chances they crossed the line with the last play of the game for another 7 points – Final score 19-41.
Date: 04/02/2016
Olympic Club PRP 25 – Belmont Shore PRP 17
Referee: Akroyd, Phil
Olympic Club blitzed their opposition with 18 points in the first eighteen minutes, then did enough to hang on for the remainder of the match.  They looked sharp off their set pieces with great backs moves originating from the scrums, and lineouts allowing them to get on the front foot.  After defeating SFGG in their previous game, Belmont looked flat and offered little.  It's hard not to empathize with a team when nothing is going their way but they had a hard time getting anything going.
The game itself was pretty choppy with lots of knock-ons, injuries, stoppages and restarts, and isolated ball carriers not releasing was the main reason for the majority of the penalties.  Not a classic, but Olympic will be happy to get a win in any circumstances.
Date: 04/02/2016
Sacramento Capitals 60 – Chico 15
Referee: Fenaroli, Steven
First day of the year lathering on the suncreen. Oh how I have missed the sun! Sac Caps hosted Chico at La Sierra Community Center in Sacramento. I had spent the morning watching two games and reading up on law, suffice to say Rugby was on the brain. The game kicked off and both teams were happy to be there. The game was quick paced and full of big hits. Both teams had a number of big guys who were quick, but didn't have the stamina to make 80 minutes. Even with Chico scoring two tries after half, Sac ran away with the game.
Date: 04/02/2016
Silicon Valley 10 – Google 46
Referee: McDougall, Grant
This was a fast paced game. Google dominated the possession in both halves. Silicon Valley made a strong comeback in the second half but couldn't make up for the slow start in the first half.
Date: 04/02/2016
Berkeley 17 – Life West 2 25
Referee: Tetler, Jen
Life west came out attacking strong, and when Berkeley let the ball bounce off the kickoff, one of Life West's chasers caught it and ran it in for a quick try.  Life west scored again minutes later.  It looked like it might be a rough game.  But then Berkeley came back with a really nice run of their own and realized they could stay in the game.  Each team got another try before the half, and Life West kicked a penalty, ending the half at 22-10.  Life West started getting a little tired in the second half, and Berkeley picked up their urgency.  Life West had a few penalties in the tackle, which got the ball going Berkeley's way.  At the end of the game, Berkeley had a dangerous tackle for a red card, and Life West capitalized to put themselves ahead by 8.  Neither team wanted to stop playing: Life West wanted to try to put a nail in the coffin even though time was up, and Berkeley wanted to try to get a last try in.  Neither happened.  Final score 25-17  Thanks to Lee Johnson for referee coaching!
Date: 04/02/2016
Aptos 51 – Marin 12
Referee: Pohlman, John
Aptos hosted Marin in Seaside at Marin Luther King High School.  The weather was beautiful.  The field had views that somewhat compared itself to UC Santa Cruz's field.  The field itself was a bit beat up, but the Aptos team had filled most of the pot holes and made it safe.
Aptos is in a rebuilding year, with allot of new players.  Their coach Stevie Ball was forced to play #10 to get some experience onto the field.
Aptos was led by their big #8 in the forwards.  He must have been involved with 50% of their 9 try s.  Breaking tackles and offloading to the speedy backs.  And yes Aptos has allot of speed.  Four of the backs were super fast and knew how to finish.  A new player whom I was told played fullback in football scored two tries both breaking tackles and out running Marin to the try zone.
Marin on the other hand had lots of good experienced players.  They wanted to play a forward pick and drive game.  This worked most of the time but after 6 or 7 crash balls they would spill the pill and the Aptos speeders would make them pay.
Marin also had a difficult time tackling the new winger, who should be looked at for the Pelicans, and huge #8 which made both players look like all stars.  Poor tackling can do that.
Oh well, a fun game to referee, both sides were pretty respectful and much more competitive then the score indicates.
And always good to see Bruce Carter.
Final Aptos 51 Marin 12
Date: 04/02/2016
Modesto 50 – Mendocino 5
Referee: Wood, Scott
TJs: Modesto-supplied
Venue: Northgate Park, Manteca
Attendance: 4,500 (Feinstein Crowd Estimating Model)
As Spring springs, mercury expands. Despite the relatively warm day, both teams wanted to run, contest hard at the breakdowns, and generally play rugby. Modesto scored three tries (2′, 21′, 24′) before Mendocino dotted the ball down over the goal line (30′). Modesto possibly could have scored more tries in the first half but they had difficulty keeping their tackles low. HT: Modesto leading 17-5.
A reading of the Riot Act by Modesto's captain brought the tackles down and they scored five tries in the second half (44′, 55′, 58′, 60′, 72′). One injury of note was to Modesto's scrumhalf who managed to dislocate his elbow (that explains the loud popping sound I heard). The #9 jersey for Modesto has harbinger as this was their third scrumhalf lost to injury this season. This particular individual had just returned from Australia and CIPP'd the night prior. Here's to hoping for a speedy recovery.
Ref has had enough moment: Modesto passed the ball off the top of a lineout and was advancing to score a try when one of their players repeatedly complained about being pulled down in the lineout. Not wanting him to miss out on a penalty opportunity, the referee blew the whistle to allow Modesto its opportunity. As kids nowadays say, "#isawit #calledadvantage #shhh".
Good spirits all around and a fun run.
EDITOR'S NOTE:  The first hashtag…  "I saw it" or "Is a wit"?   Or both?
Date: 04/02/2016
SF Fog 12 – South Valley 96
Referee: Bernstein, Bruce
Match moved from Ft. Scott Field  in the Presidio to Franklin Park b/w the Mission & Portrero Hill for a 6:30 PM start making it easier for South Valley & to hit the Pilsner Inn by the Castro for the party.  Real SF Fog actually came in as match started & the Fog (the team) responded with two real  nice 1st half tries (one by #10 kicking a high up & under around the try line & taken in by their new fullback making his debut; & a 2nd by a good scrum drive).  Those were their highlights until the Pilsner as South Valley put together a complete match with their forwards getting their backs all kinds of ball and great back line passes, catches.  Anthony playing halfback, Jed at fly & all the remaining backs played great with their centers breaking the game line & all 4 of their fast wings & fullback scoring often (6 in the 1st half & 10 in the 2nd).  Fun match to ref as both teams were in good spirits and no dirty play.  I wore a GoPro which according to Chile (playing #8 for SV) could be found at their website @ svrugby.com to check out the many match highlights.
Date: 04/02/2016
Silicon Valley 2 7 – Redwood 73
Referee: Byrnes, Bryant
D3. I get my fair share. It's like life its own self-there are good D3 matches and there are bad D3 matches. Last week was the latter; this week in San Jose was the former.
I had never had Redwood before. I think the side they fielded was more D2 that D3. I have refed Silicon Valley before; good team, nice guys. But this was their second match of the day and the team was an interesting mix of team members, guest players (of all stripe), and innocent civilians kidnapped from more innocuous activities. But it was real rugby, and safe rugby. No tears at the end of the day.
Date: 04/02/2016
Napa 92 – Reno 0
Referee: Hettermann, Matt
Kicked off about 30 minutes late to accommodate Reno's long drive. Reno had exactly 15 players, which did not bode well for the track meet that was the next 80 minutes …
Date: 04/02/2016
SFGG Women 63 – Sacramento Amazons 12
Referee: Gordon, Preston
The sun burned through the fog just as the game got started. The SFGG ladies put together lots of offloads leading to (lots of) tries, and while the Amazons were enthusiastic, they ended up with two of their own.
Date: 04/02/2016
Sacramento Blackhawks 5 – Sacramento Lions 72
Referee: Tucker, Chris
A testy match between two local sides.  Blackhawks had lost their centres to the Pro team squad and, with Luke Gross watching, the Lions ran through the middle time and again.  The rising score — and a few questionable tackles — didn't help the level of chippiness going on, and I had to work hard to keep things calm.  But nothing actually flared, and the home team had their moments, in spite of the lop-sided score, finally dotting down a consolation try towards the end of the game.
A swift round of B-side 7s later, and we were done for the day.  Although the score was closer in that game, the visitors still won.
Date: 04/02/2016
SFGG 15 – Santa Rosa 67
Referee: Bertolone, Cary
A beautiful day at For Pete's Sake in Santa Rosa. Golden Gate was short on numbers, so we agreed to a late kick-off. Golden Gate had 16 players at kick off. Good players though, except at loose head prop, where we immediately had issues. Big hits, good running, Rosa had too much speed in the back line and a couple of rambling big forwards that were tough to bring down. It was 29-8 at the half. In the second half, Rosa put up 38 more points, to only one try for the visitors. Only one card, a yellow against Rosa, for repeated infringement.
Date: 04/02/2016
Santa Clara 24 – St. Mary's College 100
Referee: Pendergrass, Joshua
This was a great match to referee. Regardless of the score, both teams played with honor and respect as well as listened to guidance to keep the match flowing.
Hats off to both sides.
Date: 04/02/2016
Santa Clara B 3 – St. Mary's College B 105
Referee: Sandhill, Peter
What a stunning day at Santa Clara University – sunny and hot, a full sized pitch, a happy crowd all out to enjoy some rugby. St Mary's completely outplayed SCU in every facet. Many tries were scored from kick-offs with no rucks or tackles made. It seemed many times there was no desire to tackle and you can't be competitive in rugby if you don't tackle. Good sportsmanship and the post-game socializing between the teams reminds me why this sport is so special.
Date: 04/02/2016
UNR 49 – UC Davis 5
Referee: Boyer, Rich
This was my first game on UNRs turf pitch, with its five different colored markings.  Both teams arrived early for warm ups, but all they really needed to do was stand in the intense sunlight for a minute.   UC Davis started the match, put pressure on UNR, then began what would be a common theme throughout the match:  swing the ball to the backs and allow them to utilize creativity.  So it was a fast paced game from the beginning.  UNR had a good cover defense, and UCD were hampered with handling errors leaving multiple tries begging.  UCD struck first on an uncoverted try scored by the wing, followed up with a strong run by #6 for a converted try.  UCD then changed tactics on a set piece and mauled in a third try.  UNR responded with a nice line break by 12 and then switched the ball to the openside at the ruck with the wing scoring on an overlap.  UCD had the lion's share of possession which resulted in a halftime score of 27-5.  The second half was more of the same, with UCD never seeming to tire despite elevation, and UNR fighting valiantly.  The UCD scrum was dominant in the second half, putting more pressure on UNR.  The  UCD scrumhalf scored two nice try on sniping runs while unselfish play led to the other second half tries.  The game was played in good spirits with very few penalties awarded.  Captain Josh Farnsworth and Harry the Wizard at 8 stood out for UCD while Peter the captain at prop and #13 were noticeable for UNR.
Date: 04/02/2016
Diablo 33 – Vacaville 36
Referee: Simko, Paul
Keen Eyed Observer: Hinkin, James
Great day at Cal Maritime.  Vacaville showed up with 17 players and Diablo had many extra.  This match was a battle with 6 or 7 lead changes.  Diablo received a yellow card with about 15 minutes left in the match for a late hit on the kicker.  Vacaville took advantage of the opportunity.  With a full squad, Diablo finished the game with a late score/missed conversion that kept it close.
Date: 04/05/2016
Sacramento Capitals 58 – Missoula Maggots 26
Referee: Carney, Mark
Game was fairly evenly matched in the first half with the Capitals playing most of their B side players. Missoula had a couple of great tries from a very speedy winger who sliced through the Caps defense.
In the second half, the Caps allowed some of their A side players to get a run, and the result was that Missoula was over matched in the backs and consistently lost possession at the breakdown, allowing the Caps to run away with the game in the second half.
This Week's Photo
Paul Simko all miked up and getting ready to take the field for the Vacaville v Diablo match.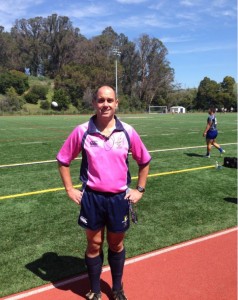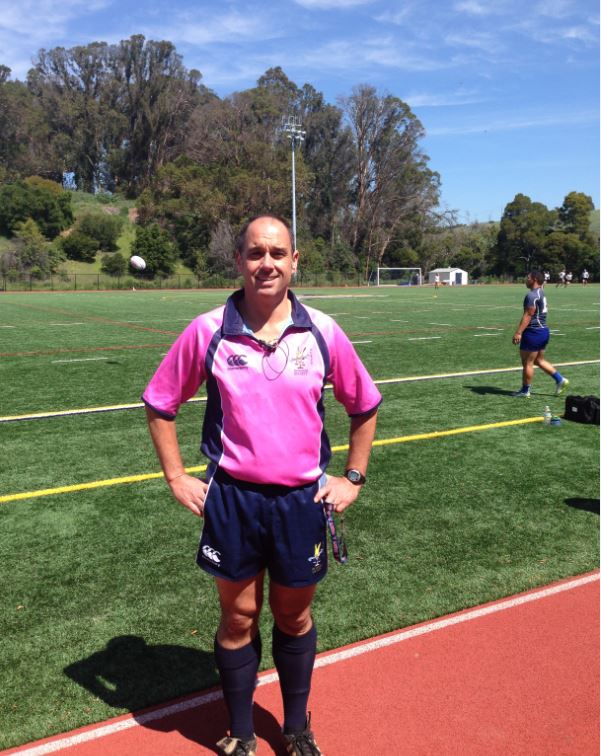 Hail, Pelicus!
For the Senate
Pelicus Pedem Referre