Year of the Beleaguered Badger
HAIL PELICUS!
Year of the Beleaguered Badger
Well here it is: a freshly minted year and we can all cheerfully say "good riddance" to 2020. I can say that I earnestly hope that 2021 will be a better year than 2020 but let's be honest here, that is a pretty low bar to clear. As is custom at this time of year the editorial staff at Hail Pelicus will look into the future to see what is in store for the members of the Greatest Referee Society On The Planet and for the NCRFU in general.
But first, let us dust off the time capsule from last year and review the predictions for 2020 and see how our esteemed Official Prognosticator did. We have invited him to join us to review what he got right and what he missed but for some reason he seemed a little reluctant and we had to send large men with no sense of humor at all to drag him onto to the stage here with me, so without further ado, please welcome the Official Hail Pelicus Prognosticator!
(wait for applause)
Ah yes, this is all virtual due to the pandemic so there will be no applause or audience reaction of any sort. Such is the new reality. The only reason I am allowed to be up here on stage with the OHPP is that he is a figment of my imagination and thus immune to COVID-19. And so, on with the show!
2020 Predictions in Review
So let's take a look at the predictions for 2020, shall we? For those of you playing at home, you can see them here and follow along.
Hail Pelicus: Let's see… nope. Got that wrong. That one, too. Nope. That would have been hilarious, but no. No. NO. NOOOO! Dude, you didn't get one prediction right! How could you possible miss the pandemic??? The single most important, disruptive, tragic, catastrophic event of the year? An event that stopped rugby worldwide, cancelled the entire Nor Cal season, summer 7s and still has not released us from its grip? Cancelled the World Sevens Series and postponed the Tokyo Olympics! And then we have all the non-rugby related disruptions to work, life, socializing… and death. This is a pandemic that as of this writing has claimed more than 350,000 lives in the US and over 1.8 MILLION worldwide and YOU DIDN'T SEE THIS COMING???
OHPP: Well, you see, the future was uncertain and this was actually my first day as a fortune teller and I really didn't know…
HP: What was that? Speak up, man! Do you have any excuse?? I demand an answer!
OHPP: I was tired and really didn't get a good look at the chicken entrails before my dog ate them and…
HP: Shut up. Just stop. You are fired and hereby banished from my imagination! Don't let my skull hit you on your way out.
Sorry about that, folks, but that was a rather bleak prediction record. While I love the image of Age Ferris rampaging through downtown San Diego and it is always worth it to needle Tory Golino about his persistent lack of torso coverage, I think we will have to throw out last year's predictions and start over. The only part of that column that was remotely accurate was the introduction when I wrote "The Sanguine Newt is generally an optimistic, happy-go-lucky amphibian but is a keen exponent of etymology and thus has a nasty streak as well, so I would expect 2020 to be generally superb, but with some unpleasantness thrown in. So, in essence, we may all be turned into a newt at some time this year, but we will all get better." For those non-etymologists in the audience "sanguine" originally meant "bloody" so yea, I nailed that bit.
It seems I underestimated the nasty streak of the Sanguine Newt by quite a lot but with vaccines already being distributed to front line health care workers and high risk individuals there is hope we will all be getting better soon. As tends to happen with newts. So everyone, keep wearing your masks, washing your hands and social distancing and we will get through this. There is indeed a light at the end of the tunnel and it appears that this is the light of hope rather than an oncoming train. So since our OHPP has been banished for incompetence and I at least got some things sort of right, I am going to stick my neck out, plot the course of the stars, invest in some tea leaves, review the lines on my palm and see what the foam on a pint of beer tells me (most likely: that I am soon going to have another beer).
2021 Predictions
So 2020 can properly be described as annus horribilus but that doesn't mean there weren't any bright spots. The pandemic caused a global rethink about what is an essential worker and how people can work together without being together. Serendipitously, everyone staying at home drastically reduced traffic and thus reduced air pollution around the area (at least until the entire state caught fire). In another bright note school shootings were practically non-existent, reversing a disturbing trend in the US. I am sure that there will be large amounts of money thrown at various groups to study why this happened and we here at Hail Pelicus volunteer to be the recipient of that grant. "Remote" was the word of the year, as in "-learning", "-work" and "-get togethers". Some of these thoughtful innovations are here to stay but we shall see if people remember who are our essential workers and why so many of them are also our lowest paid workers. The tragic deaths of George Floyd and Breonna Taylor sparked a worldwide protest against racism and started a painful, but needed national conversation. Again, too soon to see if anything comes of this but I am, as always, hopeful.
And, of course, the things people did to entertain themselves under lockdown were amazing. Dave Grohl of the Foo Fighters staged an epic drum off with 10 year old Nandi Bushell, which lasted several rounds and can be viewed here. Renowned musician "Weird" Al Yankovic created his own version of the musical Hamilton: The Hamilton Polka. The reaction video of Hamilton creator Lim-Manuel Miranda superimposed with Jimmy Fallon is just as amazing as they both laugh and react at the same time. These may be the best things I saw in 2020.
So how could 2021 improve on 2020? Easily, and in many ways 2021 will be a reset of 2020. To that end, much like the NCAA, I granted myself an extra year of eligibility and will redo my 49th year.
So with all that nonsense out of the way, let's get on with the predictions for 2021:
Northern California Rugby Football Union Referee Society President Neil MacDonald follows through with his plans to change the official motto of the society from "Semper Bonis Avis" (Always with good birds) to "Si Non Scoti, Excrementa Est!" (If It's Not Scottish, It's Crap!).   Due to the pandemic, nobody in Nor Cal notices.
In a desperate attempt for attention, President Neil MacDonald gets the new motto tattooed across his chest.   After a few stern words from his wife he admits that it is a temporary tattoo and washes it off.  
No rugby will be played during the winter months and through the spring.   This makes people sad.
Local, state and national health officials manage to widely distribute COVID vaccines and give permission for rugby to resume just in time for summer 7s.   This makes everyone happy, except for the tight five players who see 7s as a waste of time, seeing as there are no proper scrums.  
In response to the above, the newly created Tight Five Society Of Northern California create their own version of 7s which consist of the tight 5, an 8 man and a scrum half.  All restarts are either scrums or lineouts  – there are no kick offs, drop outs, free kicks or penalty kicks.  In fact kicking of any kind, unless you are kicking an opponent on the ground, is illegal.   All plays start with an 8 man pick from the scrum followed by a series of pick and goes and short crashes.   Any pass over 5 meters is illegal.   The rest of the rugby world look at this and think the tight 5 are all idiots.   The tight 5 have never been happier and don't notice.
With no other rugby until the summer 7s season, NCRFU clubs finally decide to take 7s seriously and regain their national championship form that has been missing for a decade.   I mean, look it up, people.  We dominated back then!
The combination of USA Rugby's bankruptcy and pandemic restrictions, local unions take a long hard look at rugby and decide that unless you are Division 1, national championships are a poorly organized waste of money.  (Division 1 clubs decide that while they are still poorly organized, it is worth it.)   The result of this epiphany is D2 territorial championships, D3 state championships and, with all this new free time in the calendar, the resurgence of tournaments.   The Monterey Bay Tournament, Golden Gate Tournament and Santa Barbara Tournament all rise, phoenix-like, from the ashes of history to regain their former glory as the premier events on the rugby calendar.
World Rugby confirms that the USA 7s will be played somewhere in the Greater Los Angeles Basin in 2022.  Former Las Vegas USA 7s Tournament Director Jon Hinkin teams up with casino mogul Sheldon Anderson and Raiders owner Marc Davis to stage a competing event.   In a statement, Mr Hinkin states, "People can elect to go to the 'official' event in LA or to our alternate event.  Those that elect to come to Vegas – we can call them 'alternate electors' – well, they are truly expressing the will of the people."   Nobody at the USA 7s notices.
And finally…
Rugby will return and it will return safely. That makes everyone happy.
Happy New Year and here's to a great 2021!
2019 USA Rugby Game Management Guidelines (because there are no 2020 guidelines)
Looking for guidance on how to manage a game? Well, USA Rugby has your back. You can find the 2019 USA Rugby GMGs here: https://drive.google.com/open?id=1XXcRfsVtLL-qUawEHUI47ei0dt_65fDM.
If you do not have access to the google drive linked above you can also view them as well as other pertinent documents here: http://www.usarugby.org/referee-resources/
Disciplinary Action Reporting – Process For Reporting Incidents
The various competitions all have their own disciplinary chairs and this will make it difficult to centralize the communication and data. To help we have developed a form that will centralize the process, regardless of the competition. The link to the discipline form is https://docs.google.com/forms/d/1mmUNg11uVOSkIsUtHifSqQzalhWbwohk_J6AmPyrucQ/viewform
Copy the link and have it available on your smartphone. If you have an iPhone add the link to your home screen.
When needed fill it out and click submit. The discipline chair of the competition you refereed will receive a notification about the incident.
He/she may contact you latter for more details.
If you have any questions as to how to use the app please refer to the following video: https://www.youtube.com/watch?v=_Uz0_gTaOnY
This Week's Photo
The Beleaguered Badger of 2021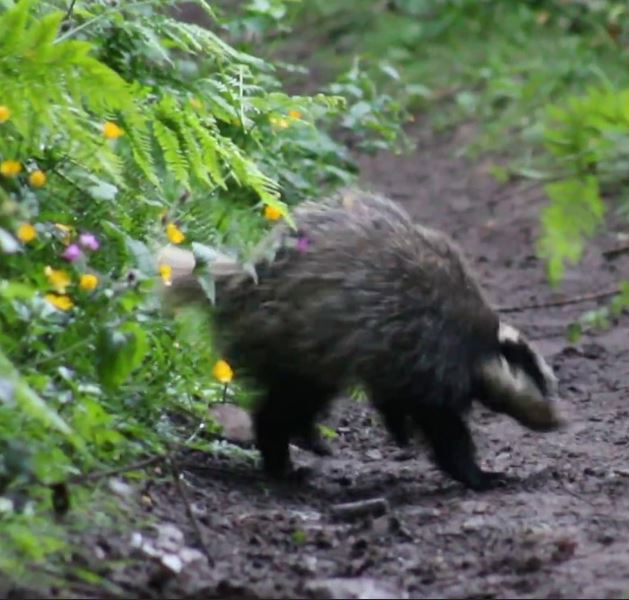 Hail, Pelicus!
For the Senate
Pelicus Pedem Referre